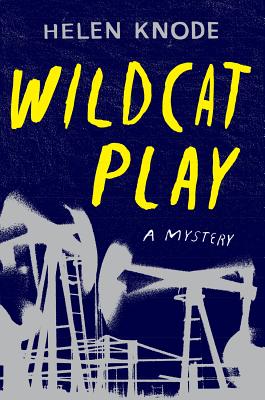 Wildcat Play: A Mystery (Hardcover)
A Mystery
Houghton Mifflin Harcourt (HMH), 9780151004294, 320pp.
Publication Date: April 24, 2012
* Individual store prices may vary.
or
Not Currently Available for Direct Purchase
Description
Hipster movie critic Ann Whitehead pushed a Hollywood murder case to a bloody climax and almost died herself. Changed forever--less stupid and more fun--she has moved on to a place she knows well: the San Joaquin Valley, where her grandfather's closest friend, Joe Balch, owns the oil company that keeps one town alive.
Balch gets Ann a job with the Oklahoma contractor drilling his wildcat well. It's hard work, but Ann loves both it and her crusty old boss, Emmet. Then a guy on her crew is killed by a falling hammer. Sheriffs rule it an accident but Ann's LAPD squeeze, Detective Doug Lockwood, says it's murder. Ann can't resist the challenge of chasing a killer--and then the killer starts chasing her . . .
From a writer whose first novel was praised as "highly literate, exceptionally action-packed and occasionally harrowing" (Chicago Tribune), this is a wild ride full of bad behavior and laughs, oil-field characters, and small-town atmosphere, starring a heroine who never does anything halfway.
Praise For Wildcat Play: A Mystery…
"This book is a blast -- a gutsy, funny heroine and a story that's a pulse-pounding thrill ride."-Janet Evanovich
"I fell in love with the people, the place and most of all the words."-Michael Connelly "Helen Knode's
Wildcat Play
is one of the freshest mysteries I've read in a long time, and sleuth Ann Whitehead is an original. A fine writer, Knode brings the edgy, colorful, and dangerous world of oil and gas drilling to life for her readers. She also manages to salt in fascinating tidbits of oilfield history without slowing down the action. Get ready to feel as if you've stepped out onto the rig, where you'll meet a set of unforgettable characters facing hard work, long odds, and high risk."-Jan Burke, Edgar-winning author of
Bones
and
Disturbance.
"Drawing on her family's history in oil exploration, Helen Knode has created a riveting mystery that blends elements of Upton Sinclair and There Will Be Blood with a hard-edged heroine who isn't afraid to get grease under her fingernails. Best of all,
WILDCAT PLAY
explores the literary terra incognita of East-Central California, a land of transplanted Okie roughnecks, blue-collar millionaires, wildcat rigs and the scheming, double-crossing and murder that seethes beneath the placid surface."  -Denise Hamilton, author of Damage Control and the Eve Diamond mystery series Knode's ponderous second mystery featuring L.A. movie critic Ann Whitehead (after 2003's The Ticket Out) takes Ann to oil country. Ann's family's business was oil, and her father's friend Joe Balch is happy to hire her on his wildcat gas drilling operation in the San Joaquin Valley. Despite pressure from her grandmother and Joe's estranged wife to do something more genteel, Ann is soon enmeshed in the dangerous world of the drilling rig. When a hand is murdered on the rig, Ann investigates, putting herself at risk in a life-and-death situation with big money at stake. Even her LAPD love, Det. Doug Lockwood, eventually becomes involved in the race to find the killer. Conspiracy, murder, and family secrets eventually explode in an exciting conclusion, though some readers may feel they've learned more about the down-and-dirty world of the oil fields than they need to along the way. Agent: Nat Sobel, Sobel Weber Associates. (Apr.)--Publishers Weekly
Advertisement