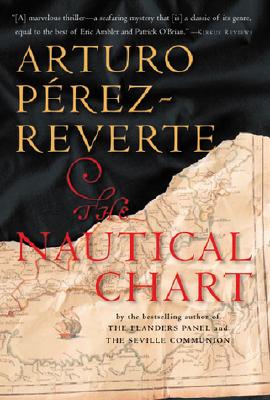 The Nautical Chart (Hardcover)
Houghton Mifflin Harcourt, 9780151005345, 480pp.
Publication Date: October 1, 2001
Other Editions of This Title:
Paperback (6/7/2004)
Paperback (9/1/2002)
* Individual store prices may vary.
Description
Coy is a suspended sailor with time on his hands, a mariner without a ship. While attending a maritime auction in Barcelona, he meets a beautiful woman who immediately captures his imagination. Tanger Soto, who works for the Naval Museum in Madrid, is obsessed with the Dei Gloria, a Jesuit ship sunk by pirates in the seventeenth century, and now-she hopes-resting on the bottom of the sea off the southern coast of Spain. Tanger uses her considerable manipulative skills with men and her expertise with documents, atlases, and nautical maps to chart the search for lost treasure. Coy is quickly drawn into the search, and before long finds himself falling in love. Along with El Piloto, the world-wise old man of the sea whose sailboat will carry this adventurous crew, they seek their fortune together. Or do they?
As these lively characters follow the course of past sailors, their own journey becomes perilous. Are there secrets dwelling in the depths of the sea? And what of the depths of the heart? This highly intelligent and meticulously plotted novel combines the richness of atmosphere we have come to expect from Perez-Reverte with the romance and mystery of the sea found in the novels of Melville, Conrad, and O'Brian. An unforgettable adventure.
"The master of the intellectual thriller."--"San Francisco Chronicle"
" "

Praise For The Nautical Chart…
PRAISE FOR THE FENCING MASTER
"[Párez-Reverte] has a deft way with a sword fight, and there are duels here as swashbuckling as anything in The Mask of Zorro."
--The New York Times Book Review

"A smart, literate novel with suspense and a great puzzle, this is hard to beat."
--The Globe and Mail (Toronto)

PRAISE FOR THE SEVILLE COMMUNION
"One of those infrequent whodunits that transcend the genre . . . Page-turning pace and vivid characters." --Time

"Spain's bestselling author weaves an indelible tale of love, faith and greed that will keep readers shouting olé!" --People

"Dramatic extravagance . . . Párez-Reverte writes with narrative economy, a sharp eye for telling detail and a feel for history. . . . Good fun." --The New York Times Book Review

PRAISE FOR THE FLANDERS PANEL
"Párez-Reverte is a master storyteller. His story within a story is fascinating in its detail. His characters become so lifelike that they feel like old friends. And the plot is refreshingly creative." --San Francisco Examiner
or
Not Currently Available for Direct Purchase