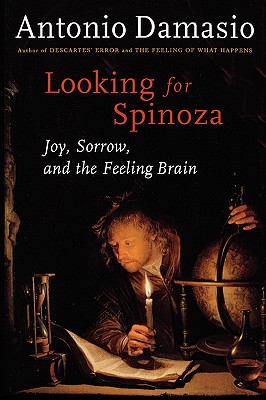 Looking for Spinoza
Joy, Sorrow, and the Feeling Brain
Hardcover

* Individual store prices may vary.
Description
Completing the trilogy that began with Descartes' Error and continued with The Feeling of What Happens, noted neuroscientist Antonio Damasio now focuses the full force of his research and wisdom on emotions. He shows how joy and sorrow are cornerstones of our survival. As he investigates the cerebral mechanisms behind emotions and feelings, Damasio argues that the internal regulatory processes not only preserve life within ourselves, but they create, motivate, and even shape our greatest cultural accomplishments.
If Descartes declared a split between mind and body, Spinoza not only unified the two but intuitively understood the role of emotions in human survival and culture. So it is Spinoza who accompanies Damasio as he journeys back to the seventeenth century in search of a philosopher who, in Damasio's view, prefigured modern neuroscience.
In Looking for Spinoza Damasio brings us closer to understanding the delicate interaction between affect, consciousness, and memory--the processes that both keep us alive and make life worth living.
Praise For Looking for Spinoza: Joy, Sorrow, and the Feeling Brain…
PRAISE FOR THE FEELING OF WHAT HAPPENS

"One of the best brain stories of the decade . . . This is a must-read book for anyone wanting a neurologist's perspective on one of the greatest unsolved mysteries."--The New York Times Book Review

"The first truly compelling neurobiological account of the self . . . A remarkable work of intellectual daring."--Nature

"What makes his views so noteworthy is that they're grounded not in theoretical musings but in years of clinical research."--Time

"The book's clear, beautiful language, its fascinating case studies and the way in which it brings difficult scientific issues to life . . . may actually make it a landmark in the interdisciplinary project of consciousness research."--Scientific American

PRAISE FOR DESCARTES' ERROR

"A tour de force of sheer reflective imagination."--The Times Literary Supplement

"In Descartes' Error, he brings all these gifts together in a fascinating exploration of the biology of research and its inseparable dependence on emotion."--Oliver Sacks


"Damasio has the rare talent of rendering science intelligible while also being gifted in philosophy, literature and wit."
-Margaret Jacob

"Looking for Spinoza is exceptionally engaging and profoundly gratifying."
-Ray Dolan

"In clear, accessible and eloquent prose, Damasio is outlining a new vision of the human soul."
-William Kowinski

"Compelling."
Houghton Mifflin Harcourt, 9780151005574, 368pp.
Publication Date: January 1, 2003
or
Not Currently Available for Direct Purchase