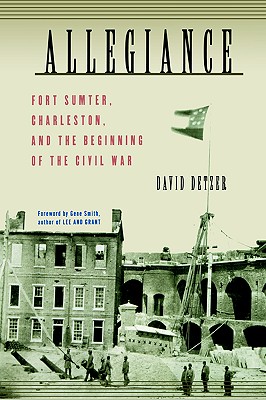 Allegiance
Fort Sumter, Charleston, and the Beginning of the Civil War
Hardcover

* Individual store prices may vary.
Other Editions of This Title:
Paperback (4/12/2002)
Description
Foreward by Gene Smith, author of Lee and Grant

An original and deeply human portrait of soldiers and civilians caught in the vortex of war.

So vividly does Allegiance re-create the events leading to the firing of the first shot of the Civil War on April 12, 1861, that we can feel the fabric of the Union tearing apart. It is a tense and surprising story, filled with indecisive bureaucrats, uninformed leaders, hotheaded politicians, and dedicated and honorable soldiers on both sides.

The six-month-long agony that began with Lincoln's election in November sputtered from one crisis to the next until Lincoln's inauguration, and finally exploded as the soldiers at Sumter neared starvation. At the center of this dramatic narrative is the heroic figure of Major Robert Anderson, a soldier whose experience had taught him above all that war is the poorest form of policy. With little help from Washington, D.C., Anderson almost single-handedly forestalled the beginning of the war until he finally had no choice but to fight.

David Detzer's decade-long research illuminates the passions that led to the fighting, the sober reflections of the man who restrained its outbreak, and individuals on both sides who changed American history. No other historian has given us a clearer or more intimate picture of the human drama of Fort Sumter.



Praise For Allegiance: Fort Sumter, Charleston, and the Beginning of the Civil War…
PRAISE FOR ALLEGIANCE

"A splendid story of people, ordinary and extraordinary, living through
extraordinary experiences . . . Their story has never before been told so well."--James M. McPherson
"Historical reporting at its best."--Richmond Times-Dispatch
"Allegiance should take a place as the definitive word on the first moments of
our greatest national tragedy."--William C. Davis

Mariner Books, 9780151006410, 384pp.
Publication Date: April 12, 2001
About the Author
David Detzer is professor emeritus of history with Connecticut State University. He is the author of several books, including Allegiance: Fort Sumter, Charleston, and the Beginning of the Civil War; and The Brink: Cuban Missile Crisis, 1962. He lives in Connecticut with his wife and several dogs.