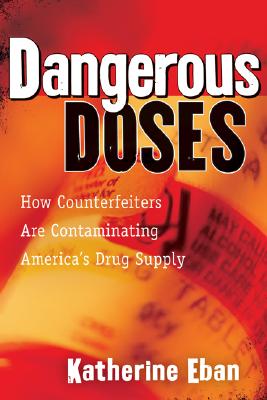 Dangerous Doses: How Counterfeiters Are Contaminating America's Drug Supply (Hardcover)
How Counterfeiters Are Contaminating America's Drug Supply
Houghton Mifflin Harcourt, 9780151010509, 480pp.
Publication Date: May 1, 2005
* Individual store prices may vary.
or
Not Currently Available for Direct Purchase
Description
In the tradition of the great investigative classics, Dangerous Doses exposes the dark side of America's pharmaceutical trade. Stolen, compromised, and counterfeit medicine increasingly makes its way into a poorly regulated distribution system--where it may reach unsuspecting patients who stake their lives on its effectiveness.

Katherine Eban's hard-hitting exploration of America's secret ring of drug counterfeiters takes us to Florida, where tireless investigators follow the trail of medicine stolen in a seemingly minor break-in as it funnels into a sprawling national network of drug polluters. Their pursuit stretches from a strip joint in South Miami to the halls of Congress as they battle entrenched political interests and uncover an increasing threat to America's health.

With the conscience of a crusading reporter, Eban has crafted a riveting narrative that shows how, when we most need protection, we may be most at risk.

About the Author
KATHERINE EBAN, a Rhodes Scholar and investigative medical reporter, has worked for the New York Times, New York, New York Observer, and ABC News. Her articles have appeared in the Nation, Playboy, the New Yorker, Self, Vogue, and Glamour. She lives in Brooklyn.
Praise For Dangerous Doses: How Counterfeiters Are Contaminating America's Drug Supply…
This is a book that comes along so rarely in non-fiction—brilliantly reported, written with the pace of a potboiler and harrowing in its societal repercussions. In Dangerous Doses, Katherine Eban takes us on a journey into the underbelly of the pharmaceutical industry so spooky and strange and sinister and deadly, you will have a hard time believing it is true. But it is, every word, which only makes Dangerous Doses shine even more.

-Buzz Bissinger, author of Friday Night Lights

Katherine Eban has delivered a dangerous dose of truth about the drugs that keep Americans alive. Her "murder-she-wrote" dramatic narrative turns everyone''s neighborhood drugstore into a possible crime scene."

-Wayne Barrett, author of Rudy! An Investigative Biography

In a style reminiscent of some of the best detective storytellers, Eban takes us breathlessly through robberies, back-room deals, cluttered and dirty warehouses, crooked dealers, sociopathic profiteers, shell companies, and state and federal laws so porous that convicted felons can become prescription-drug brokers


An investigative journalist digs into the chilling story of how degraded, expired, contaminated and diluted medicines are being sold to American pharmacies and hospitals. The result is a story rich in distinctive characters whose actions range form courageous to outrageous. Vivid writing and impressive documentation in a powerful indictment of a system in need of immediate repair."


A riveting tale. "Dangerous Doses" is part detective story, part pharmacological primer.


Katherine Eban''s expose on the poorly regulated prescription drug distribution system will have you calling your doctor to check your meds. To put it simply, she''s done her homework on a terribly neglected system. " -- Razor magazine
"In "Dangerous Doses," Katherine Eban showed how vulnerable America''s drug supply is to counterfeiters. With such dangers lurking, it often seemed as if the real world trumped fiction this year


The book reads like a good novel....If this book receives wide attention, it could deal another blow to an already reeling pharmaceutical industry and users of prescription drugs will be wary after reading it.


An exposé that wades into more rank Florida unseemliness than a Carl Hiaasen novel, and easily boasts three times the number of sleazebag villains.


Katherine Eban combines investigative diligence, a natural story teller''s gift for narrative, and a consumer advocate''s practical prescriptions for what to do about the counterfeit drugs that may have contaminated the supply at your local drug store. The result: A rare literary event -- muckraking with a human face.

-Victor Navasky, Publisher and Editorial Director

A riveting account of a 2 1/2-year investigation in south Florida . . . . As Eban recounts, the scam was broken wide open by a ''ragtag'' group of seasoned investigators who seem as if they were cast right out of an episode of The Wire."

-Bernadine Healy

Warning: Katherine Eban''s Dangerous Doses can give you headaches, raise your blood pressure and provoke anxiety. In extreme cases, it can leave you staring at a bottle of medicine and wondering: What do these pills really contain? ... In her vibrant tale, Eban introduces us to these people and makes the message clear: It shouldn''t happen to anyone, and it could happen to you."
Advertisement