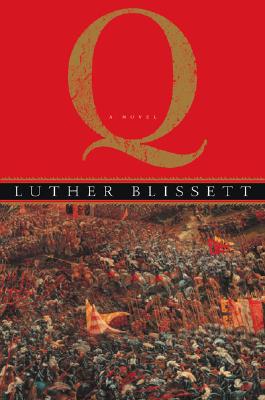 Q (Hardcover)
Houghton Mifflin Harcourt, 9780151010639, 768pp.
Publication Date: May 3, 2004
* Individual store prices may vary.
Description
1517 Martin Luther nails his ninety-five theses to the door of Wittenburg Cathedral, and a dance of death begins between a radical Anabaptist with many names and a loyal papal spy, known mysteriously as "Q." In this brilliantly conceived literary thriller set in the chaos of the Reformation-an age devastated by wars of religion-a young theology student adopts the cause of heretics and the disinherited and finds himself pursued by a relentless papal informer and heretic-hunter. What begins as a personal struggle to reveal each others' identities becomes a mission that can only end in death.

About the Author
First published anonymously in Italy, and crafted by four young writers under the pseudonym LUTHER BLISSETT, Q has become a cult bestseller across Europe
Praise For Q…
PRAISE FOR Q
"Imagine Umberto Eco's knack for the swashbuckling thriller of ideas crossed with an artful touch of the Le Carrés, and you have a fair idea of the novel's mood. . . . As a historical blockbuster, it boasts pace, colour, excitement and suspense to spare. . . .Q works like a charm." —THE INDEPENDENT (LONDON)

"This is a big book and a big canvas. . . .The panorama is big and bloody and breathtaking: a crush of colour and crowds, exotic locations and war.The sheer weight of its authors' historical research provides a convincing backdrop for the fictional heroes."
—THE TIMES (LONDON)

"An extraordinary historical adventure of faith and rebellion, thirty years of fleeing, intrigues, and slaughters in the first half of the 16th century in the Saxony of the Iron Knights, and in the Rome of the Popes." —LA REPUBBLICA ( I TALY )

or
Not Currently Available for Direct Purchase