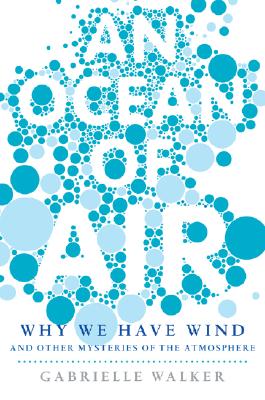 An Ocean of Air (Hardcover)
Why the Wind Blows and Other Mysteries of the Atmosphere
Houghton Mifflin Harcourt, 9780151011247, 288pp.
Publication Date: August 6, 2007
Other Editions of This Title:
Paperback (8/4/2008)
* Individual store prices may vary.
Description
We spend our lives surrounded by air, hardly even noticing it. It's the most miraculous substance on earth, yet responsible for our food, our weather, our water, and our ability to hear. In fact, we live at the bottom of an ocean of air. In this exuberant book, gifted science writer Gabrielle Walker peels back the layers of our atmosphere with the stories of the people who uncovered its secrets:

• A flamboyant Renaissance Italian discovers how heavy our air really is: The air filling Carnegie Hall, for example, weighs seventy thousand pounds.

• A one-eyed barnstorming pilot finds a set of winds that constantly blow five miles above our heads.

• An impoverished American farmer figures out why hurricanes move in a circle by carving equations with his pitchfork on a barn door.

• A well-meaning inventor nearly destroys the ozone layer.

• A reclusive mathematical genius predicts, thirty years before he's proved right, that the sky contains a layer of floating metal fed by the glowing tails of shooting stars.
About the Author
GABRIELLE WALKER has a PhD in chemistry from Cambridge University and has taught at both Cambridge and Princeton universities. She is a consultant to New Scientist, contributes frequently to BBC Radio, and writes for many newspapers and magazines. She is also the author of four books, including An Ocean of Air and Antarctica. She lives in London.
Praise For An Ocean of Air: Why the Wind Blows and Other Mysteries of the Atmosphere…
PRAISE FOR SNOWBALL EARTH

"A thrilling tale of brilliant researchers . . . not only crystal-clear but also wonderfully dramatic."—THE WASHINGTON POST



"[R]iveting in its vivid portrayal of the great icy catastrophes which may have gripped our planet nearly a billion years ago, and its depiction of the very human scientists involved . . . Both the geological and the human story are brilliantly told."—OLIVER SACKS
"I never knew air could be so interesting."
— Bill Bryson, author of A Short History of Nearly Everything
"An Ocean of Air is a fascinating book. The subject is hot, the science is cool, and Gabrielle Walker's style is lighter than air. Warmly recommended."
— Jonathan Weiner, author of The Beak of the Finch
"Who knew air could be so interesting? Like the scientific mavericks she profiles, Gabrielle Walker had the freshness of vision to realize that within its presumed-nothingness lay the most fascinating, profound revelations about life on earth. This is science writing at its best: clear, witty, relevant, unbelievably interesting, and just plain great."
— Mary Roach, author of Stiff
or
Not Currently Available for Direct Purchase