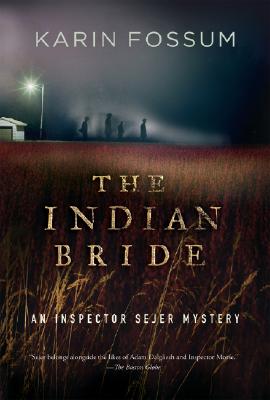 The Indian Bride (Hardcover)
Houghton Mifflin Harcourt, 9780151011827, 306pp.
Publication Date: July 1, 2007
* Individual store prices may vary.
or
Not Currently Available for Direct Purchase
Description
When perpetual bachelor Gunder Jomann goes to India for two weeks and comes home married, the town of Elvestad is stunned. On the day the Indian bride is supposed to arrive, the battered body of a woman is found in a meadow on the outskirts of town. None of the "good people of Elvestad" can believe that anyone among them would be capable of such a brutal murder. But in his quiet, formal way, Inspector Konrad Sejer understands that good people can commit atrocious deeds, and that no one is altogether innocent including the cafe owner who knows too much, the girl who wants to be a chief witness, and the bodybuilder with no outlet for his terrible strength.

Another brilliantly conceived, dark novel from one of Europe's most successful crime writers.
Praise For The Indian Bride…
PRAISE FOR KARIN FOSSUM
"A superb writer of psychological suspense." — THE NEW YORK TIMES "With sharp . . . insight and a fine grasp on police procedure, Fossum is easily one of the best new imports the genre has to offer." — THE BALTIMORE SUN
"Heart-stoppingly suspenseful...terrific...[Sejer and Skarre] make such an agreeably civilized pair that if I had to be a crime victim and could chose the locale, I would pick Norway....Fossum is a master at probing the plague of guilt that infects a community in which just about everyone has something they think they need to hide..."
"Fossum is a master at drawing finely detailed suspects
"Outstanding...With a skill few can equal, Fossum deftly paints the provincial inhabitants of Elvestad, coupling those poignant word portraits with a whodunit and an insightful but fallible detective." (starred)
"Showcases the crisp prose and unsettling scenarios that have made Fossum one of Europe''s most successful crime novelists. Like a Scandinavian winter, this potent psychological thriller chills right to the bone." (starred)
"[It] takes...subtle thought to interpret a cafe owner''s surliness or a schoolgirl''s eagerness to be a murder witness. What it takes is a writer like Fossum, able to see into the soul of an entire village."
-Marilyn Stasio
Advertisement