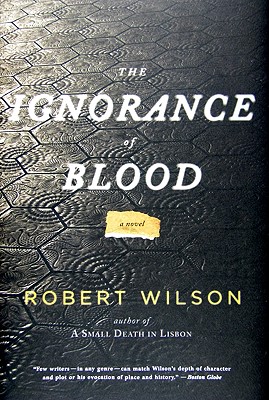 The Ignorance of Blood
Hardcover

* Individual store prices may vary.
Other Editions of This Title:
Paperback (6/11/2010)
Compact Disc (10/1/2009)
MP3 CD (10/1/2009)
Analog Audio Cassette (10/1/2009)
Description
As a sweltering Seville recovers from the shock of a terrorist attack, Inspector Jefe Javier Falcón is struggling to find the bombers.The death of a gangster in a spectacular car crash offers vital evidence implicating the Russian mafia in his investigation, but pitches Falcón into the heart of a turf war over prostitution and drugs.Now the target of vicious hoods, Falcón finds those closest to him are also coming under intolerable pressure: his best friend, who's spying for the Spanish government, reveals that he is being blackmailed by Islamist extremists; and Falcón's own lover suffers a mother's worst nightmare.He might be able to bring the perpetrators of the bombing to justice, but there will be a devastating price to pay.
Praise For The Ignorance of Blood…
Praise for THE HIDDEN ASSASSINS
"
The Hidden Assassins
, the third Falcón thriller, once again demonstrates that few writers—in any genre—can match Wilson's depth of character and plot or his evocation of place and of history."—
Boston Globe
"Modern terrorism is uppermost in the minds of those who populate Robert Wilson's new novel, but the engines driving
The Hidden Assassins
through to its satisfying, nuanced finish are old human emotions: greed, obsession, love."—
Washington Post Book World
"A complicated, disturbing novel for complicated, disturbing times."—
USA Today
The accidental death of a Russian gangster sets demons of all sorts loose in this final installment in Wilson's Seville tetralogy. Only his death in a freak traffic accident has short-circuited Vasili Lukyanov's plan to shift his allegiance from Mafia boss Leonid Revnik to Afghan War veteran Yuri Donstov, whose heroin-smuggling scheme spells big rubles for everyone. The routine accident seems unconnected to Inspector Jefe Javier Falcón's ongoing investigation into the bombing of an apartment house (
The Hidden Assassins
, 2006, etc.), or his crusade to get to the bottom of his ex-wife's murder, allegedly by her husband, disgraced judge Esteban Calderón. Yet whenever he presses Calderón's girlfriend Marisa Moreno, the chief witness against the defiant judge, for details, he's warned by an anonymous caller to mind his own business. Eventually the threats escalate to a more baleful kind of pressure: the abduction of his on-again lover Consuelo Jiménez's eight-year-old son Darío. What could be worse than having to deal with kidnappers ready to kill the boy? Being caught between two sets of criminals, equally determined to bend Falcón to their will, both claiming to have Darío. It's no wonder that Falcón's hard-pressed to help his best friend Yacoub Diouri, an undercover agent who's infiltrated a group of Moroccan terrorists only to find that they've enlisted Yacoub's son Abdullah as a suicide bomber.Half a dozen other meaty, painstakingly interlinked subplots make this climactic volume as close-knit as a prose poem on counterterrorism. For fans of international intrigue, however, this capstone is the mother lode.
Summer in Seville and Inspector Jefe Javier Falcn is called out in the middle of the night to the scene of a spectacular car crash. The victim, a high-ranking member of the Russian mob, is carrying close to 8 million euros and computer discs depicting numerous top-level officials in compromising positions. Desperate to keep his promise to Sevilles citizens to bring the perpetrators of a terrorist bombing to justice, Falcn is convinced he now possesses evidence of the Russian mobs involvement in the plot to subvert the Andalusian parliament.
His investigations carry him into the midst of a mob turf warand he soon discovers the mob plays by their own rules. Pressure is applied to those nearest to him in an attempt to distract him from his investigations. His best friend Yacoub, a spy for the Spanish government, reveals that he is being blackmailed by Islamist extremists, and Consuela, Falcns lover, suffers a mothers worst nightmare. Will he have to pay an unthinkable price if he wants to discover the truth?
With
The Ignorance of Blood,
Robert Wilson brings his Inspector Jefe Javier Falcn series to a close. The series, begun with_ Blind Man of Seville,_ is both police procedural and psychological thriller, psychological because it delves into the purpose and identity of its hero. Each volume can be read alone; however, taken as a series Wilsons overarching themes of appearance, reality and family come strongly into focus. While Falcn is clearly the hero of the series, Seville is its heart. Wilsons extensive research and love of the city is evident from the first word.


The Ignorance of Blood
explores idealism and values, and before the end each of its main characters are pushed to their limits and forced to face their inner truths, often at great cost. Wilson has created a stunning finale; however, the pages are periodically painted with blood and human misery. While this is a stunning work and definitely a worthwhile read, those extremely sensitive to violence against children may wish to consider carefully before beginning.
Armchair Interviews says: Another fine offering from this very prolific and Gold Dagger award-winning mystery, crime, thriller, suspense writer.
-Janelle Martin
Houghton Mifflin Harcourt, 9780151012459, 432pp.
Publication Date: June 1, 2009
or
Not Currently Available for Direct Purchase