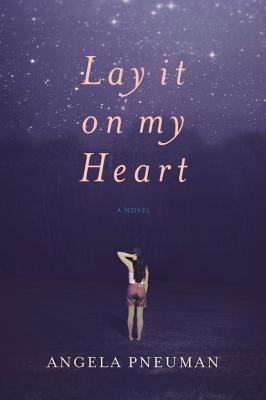 Lay It On My Heart
Paperback

* Individual store prices may vary.
Description
It's summer in Kentucky, the low ceiling of August pressing down on Charmaine Peake and the town of East Winder. Charmaine and her mother get along better with a room between them, but they've been forced by circumstances to relocate to a tiny trailer by the river. The last of a line of local holy men, Charmaine's father has turned from prophet to patient, his revelation lost in the clarifying haze of medication. Her sure-minded grandmother has suffered a stroke. At church, where she has always felt most certain, Charmaine is tested when she uncovers that her archrival, a sanctimonious missionary kid, carries a dark, confusing secret. Suddenly her life can be sorted into what she wishes she knew and what she wishes she didn't.

A moving, hilarious portrait of mothers and daughters, Lay It on My Heart brings us into the heart of a family weathering the toughest patch of their lives. But most of all, it marks out the seemingly unbearable realities of growing up, the strength that comes from finding real friendship, and the power of discovering—and accepting—who you are.
Praise For Lay It On My Heart…
"Biting yet optimistic, this first novel will knock you sideways with its Southern charm and quiet humanity." --O, The Oprah Magazine "Charmaine Peake is struggling: with her mentally ill father, her difficult mother, the boy on the bus, her homemade purse and her relationship with God. Pneuman captures the voice of adolescence and the uncertainty of faith in this endearing novel." —Minneapolis Star Tribune "[A] marvelous dark and comic debut novel...Pneuman is a master of dark comedy, and the grimmer the material, the funnier it becomes in her twisted but capable hands. Like her literary ancestor, Flannery O'Connor, she shows how myopic allegedly religious people can be, but she doesn't take cheap shots at religion either." –San Francisco Chronicle "An affecting coming-of-age story...Pneuman's sharp, insightful writing reveals the myriad challenges life can throw in a young girl's path." --Marin Independent Journal "Pneuman rarely allows slack in this taut storyline...Pneuman's treatment of the 'reality,' or lack thereof, of divine communication is lovely and not in the least bit condescending. Readers are left to make their own judgments." --Kansas City Star "Pneuman's evocation of Charmaine and her surroundings is absolute and gripping, and her novel will please any lover of good fiction, especially those with a religious background and a sense of humor."  -- Amber Peckham, Booklist "Both a compassionate and uncompromising coming-of-age tale."  -- Kirkus Reviews "Pneuman uses potent prose in her intimate and intense debut novel." --Publishers Weekly "I loved Lay It on My Heart. Angela Pneuman has written a funny and moving coming-of-age novel that explores the mysteries of faith and family with uncommon grace and wry wisdom." -- Tom Perrotta, author of The Leftovers "You will stay up all night reading this brilliant and devastating novel the way you might have with a new best friend in junior high—one whose revelations thrilled and terrified you, and whose raw, hard-earned wisdom remade the way you saw the world. It evokes the genius of Angela Pneuman's canonical progenitors:  Flannery O'Connor, Katherine Anne Porter, Walker Percy.  Lay It on My Heart is a gorgeous, riveting, and unforgettable book." -- Julie Orringer, author of The Invisible Bridge and How to Breathe Underwater "At the center of this stunning first novel is a family in crisis, a story that in Angela Pneuman's incredibly capable hands is both utterly original and nearly mythic in its powerful universality. A girl on the brink of adolescence, the only child of evangelists living in a small Kentucky town, watches the unraveling of her father's faith and her parents' marriage and discovers, in her necessary efforts to escape the attentions of her troubled mother, the dangers and promises of the secular world."—Ann Packer, author of The Dive from Clausen's Pier, Songs Without Words, and Swim Back to Me "At stake in this must-read novel is the sanity of a modern-day prophet, the state of his God-ordained marriage, and, most of all, the painful coming-of-age of his daughter—our wise, perceptive narrator—in the evangelical territory of the rural South. Angela Pneuman brings searing psychological insight to the conflicts that draw people to extreme faith, keep them there, or force them to emerge—dazed, blinking and giving thanks. A profoundly moving, deeply compassionate, wickedly funny book."—Adam Johnson, author of The Orphan Master's Son "Lay It On My Heart is a lovely book fully steeped in the quirks and growing pains of the changing South. With the biting humor of Flannery O'Connor and —
Harper Paperbacks, 9780151012589, 288pp.
Publication Date: July 1, 2014
About the Author
ANGELA PNEUMAN, raised in Kentucky, is a former Stegner Fellow and teaches fiction writing at Stanford University. Her work has been included in The Best American Short Stories, the Virginia Quarterly Review, Ploughshares, and elsewhere. Her widely praised story collection, Home Remedies, was hailed as "call[ing] to mind Alice Munro" by the San Francisco Chronicle. She lives in Chicago and in the Bay Area of California.