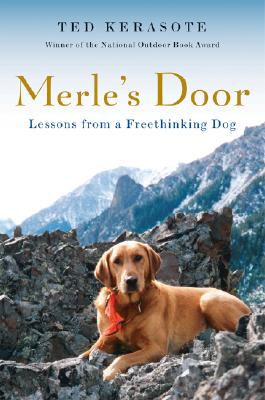 Merle's Door
Lessons from a Freethinking Dog
Hardcover

* Individual store prices may vary.
Other Editions of This Title:
Digital Audiobook (7/14/2007)
Paperback (4/21/2008)
Compact Disc (7/15/2007)
MP3 CD (7/15/2007)
Compact Disc (7/15/2007)
MP3 CD (7/15/2007)
Compact Disc (7/15/2007)
Description
While on a camping trip, Ted Kerasote met a dog—a Labrador mix—who was living on his own in the wild. They became attached to each other, and Kerasote decided to name the dog Merle and bring him home. There, he realized that Merle's native intelligence would be diminished by living exclusively in the human world. He put a dog door in his house so Merle could live both outside and in.

A deeply touching portrait of a remarkable dog and his relationship with the author, Merle's Door explores the issues that all animals and their human companions face as their lives intertwine, bringing to bear the latest research into animal consciousness and behavior as well as insights into the origins and evolution of the human-dog partnership. Merle showed Kerasote how dogs might live if they were allowed to make more of their own decisions, and Kerasote suggests how these lessons can be applied universally.
Praise For Merle's Door: Lessons from a Freethinking Dog…
PRAISE FOR BLOODTIES

"The world is lucky to have this book."—ELIZABETH MARSHALL THOMAS, author of THE HIDDEN LIFE OF DOGS

PRAISE FOR OUT THERE

"[A] sly, funny, and wise look at the world beyond the walls that we erect to keep ourselves safe from the wilderness and to keep the wilderness safe from us."—ALEXANDRA FULLER, author of DON'T LET'S GO TO THE DOGS TONIGHT



"In telling Merle's story, Kerasote also explores the science behind canine behavior and evolution, weaving in research on the human-canine bond and musing on the way dogs see the world. Merle is a true character, yet Merle is also Everydog. An absolute treasure of a book."
— Booklist (starred review)
"Merle's Door is a love story for grown-ups—an intense reciprocal relationship between a dog and his man, and how we and our dogs genuinely share feelings and emotions."
— Dr. Bruce Fogle, D.V.M., author of The Dog's Mind
"It is no exaggeration to say that Merle's Door could be the best book ever written about a dog or dogs--one dog in particular, the magnificent Merle of the title, but also about dogs in general.... It is beautifully written, a real page turner, often funny, always fascinating, and very moving. It's a book you will never forget."
— Elizabeth Marshall Thomas, author of The Hidden Life of Dogs
"Kerasote has created a whole new work of art. Merle's Door is the best, the most utterly compelling translation of dog to human I have ever seen. A terrific book, a superb book, I can't think of a single other book that conveys the love of a human for a dog so well."
— Jeffrey Moussaieff Masson, author of Dogs Never Lie About Love
"Beginning with Jock of the Bushveld in 1907, many biographies have been written about wonderful dogs whose lives have crossed the borders between the wild and the tame, but none surpasses Merle's Door. It is a joyous, sad, gripping, and deeply moving testament to the fulfilling relationship that can grow between human and dog."
— Juliet Clutton-Brock, author of A Natural History of Domesticated Mammals
"A thoughtful look at animal intelligence and the human-dog connection."
— Kirkus
"Kerasote gives readers much to consider that will enrich their own relationships with their pets. His book is highly recommended, but it does come with a tissue alert."
— Library Journal (starred review)
"This exquisitely written book is sure to be controversial, but it raises important questions that every thoughtful dog owner should consider."
— Patricia B. McConnell, Ph.D., author of For the Love of a Dog
"[T]his summer's Marley? In his memoir cum training manual, Kerasote waxes poetic about his mutt Merle and provides tips for deepening the dog/human bond."
— People Magazine Summer Reading Round-Up
"Humorous, jubilant and touching by turns... Kerasote's strong love for Merle and enthusiasm for life in the wild will win over many readers."
— Publishers Weekly
"Reading Merle's Door involves more than just sailing through an engaging biography of a man sharing his life with a rare and free-spirited dog since it contains islands of useful and scientifically sound information about dog behavior as well. To be entertained and educated at the same time time is rare in dog books, which makes this one definitely worth reading."
— Stanley Coren, author of How Dogs Think
"Merle's Door is a window into the mind of a dog. You will experience his loyalty, fears, and joys and his true inner self. Everybody who loves dogs must read this book."
— Temple Grandin, author of Animals in Translation
Houghton Mifflin Harcourt, 9780151012701, 416pp.
Publication Date: July 2, 2007
About the Author
TED KERASOTE is the author of several books, including the national bestseller Merle's Door: Lessons from a Freethinking Dog and Out There, which won the National Outdoor Book Award. His essays and photographs have appeared in Audubon, Geo, Outside, Science, the New York Times, and more than sixty other periodicals. He lives in Jackson Hole, Wyoming.
or
Not Currently Available for Direct Purchase