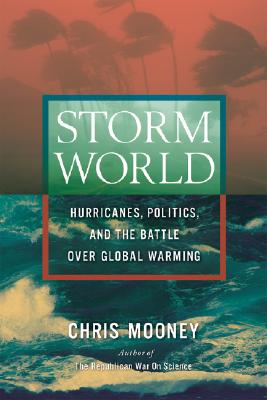 Storm World: Hurricanes, Politics, and the Battle Over Global Warming (Hardcover)
Hurricanes, Politics, and the Battle Over Global Warming
Houghton Mifflin Harcourt, 9780151012879, 400pp.
Publication Date: July 1, 2007
* Individual store prices may vary.
or
Not Currently Available for Direct Purchase
Description
One of the leading science journalists andcommentators working today, Chris Mooney delves into a red-hot debate in meteorology: whether the increasing ferocity of hurricanes isconnected to global warming. In the wake of Katrina, Mooney follows the careers of leading scientists on either side of the argument through the 2006 hurricane season, tracing how the media, special interests, politics, and the weather itself have skewed and amplified what was already a fraught scientific debate. As Mooney puts it: "Scientists, like hurricanes, do extraordinary things at high wind speeds."
Mooney a native of New Orleans has written a fascinating and urgently compelling book that calls into question the great inconvenient truth of our day: Are we responsible for making hurricanes even bigger monsters than they already are?
Praise For Storm World: Hurricanes, Politics, and the Battle Over Global Warming…
PRAISE FOR THE REPUBLICAN WAR ON SCIENCE
"Nothing short of a landmark in contemporary political reporting."—SALON.COM"A well-researched, closely argued, and amply referenced indictment of the right wing's assault on science and scientists."--Boyce Rensenberger,
Scientfic American
"Addresses a vitally important topic and gets it basically right."--John Horgan,
New York Times Book Review
"Riveting."
"In
Storm World
, Mooney serves his readers as both an empiricist who gathers data and an analyst who puts it into context. The result is an important book, whose author succeeds admirably in both his roles."
"The author''s thorough research is evident throughout, and he does a fine job of sifting through complexities and presenting the science in an engaging and readable package. ... In
Storm World
, Mooney catches real science in the act and, in so doing, weaves a story as intriguing as it is important."
"... a well-researched, nuanced book ..."
"Storm World ...
skillfully anatomizes the scientific and political debate over hurricanes and global warming."
Advertisement