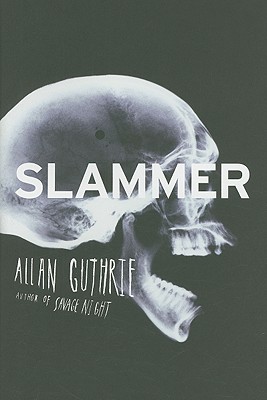 Slammer (Hardcover)
Houghton Mifflin Harcourt, 9780151012954, 272pp.
Publication Date: November 1, 2009
* Individual store prices may vary.
or
Not Currently Available for Direct Purchase
Description
Newly mintedprison officer Nicholas Glass has fallen in with the wrong crowd at "The Hilton," a Scottishprison for violent offenders. The problem is, there's no right crowd. Bullied and abused by inmates and colleagues alike, Glass finds that each day is getting longer than the one before. When a group of cons use outside help to threaten his wife and daughter, he agrees to do them a 'favor'. But, as their threats escalate, and one favor leads to another, he grows ever closer to breaking point. And when Glass breaks, he shatters...
"Slammer "is a mile-a-minute thriller shot through with Guthrie's unique blend of dark humor and ultra-violent mayhem.His previous books have beenlauded as "gripping noir" ("Entertainment Weekly")""and "character driven and exciting" ("Cleveland Plain Dealer").
Praise For Slammer…
Edgar-finalist Guthrie (Savage Night) explores the tenuous division between truth and desperate fiction in the mind of a rookie prison guard in this gritty thriller. In 1992, having recently relocated to Edinburgh, Scotland, with his wife, Lorna, and young daughter, Caitlin, Nick Glass manages to form an uneasy friendship with Mafia, a nearly blind inmate, whose crime was so horrific that no one will talk about it, at a prison for violent offenders nicknamed the Hilton. With abuse coming from his fellow officers and prisoners alike, Glass is soon coerced into a dangerous alliance with another inmate, Caesar, who threatens Glass''s family unless he agrees to smuggle in heroin. So begins Glass''s bloody descent into hell, as he tries to protect Lorna, Caitlin and himself from Caesar''s henchman and a danger that might lurk much closer to home. Guthrie''s visceral style is a perfect match for the grim setting. Fans who prefer their crime fiction ultra hard-boiled will be rewarded.



Noir exposé of an Edinburgh prison guard.

Nicholas Glass, barely 22, married and the father of a 4-year old, takes the only job on offer, at Edinburgh's facetiously nicknamed prison, The Hilton. The more experienced guards poke fun at him, and the prisoners, who make shanks and machetes in the prison tool shop, set him up as their new drug mule. Veteran convict Caesar commands his obedience by setting Watt, an underling he has on the outside, to threaten Nicholas' wife and daughter. Nicholas turns to Watt's brother Mafia, a nearly blind inmate, for help, but when none is forthcoming he begins to siphon off drugs for his personal use to deal with the stress. As his habit escalates, his marriage deteriorates. His wife drinks and complains and threatens to pack up and leave. Glass buys a gun to rid his family of Watt once and for all, but the cons, who have tapes of his drug involvement, blackmail him into engineering a prison breakout. The plot leads to murder, both inside and outside The Hilton, and leaves Glass gibbering on his bedroom floor, soaked in blood, cradling a finger stump and ready for psychiatric incarceration.

Hard-boiled and then some, with no reprieve for the emotionally squeamish. Guthrie (Savage Night, 2008, etc.) has more plot twists up his sleeve than a Vegas card shark, and each is as clever as it is horrific.
Advertisement