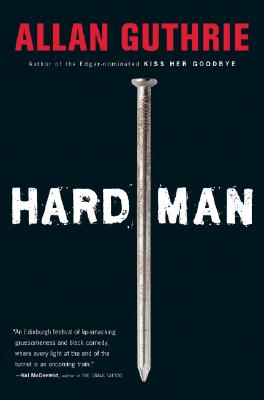 Hard Man (Hardcover)
Houghton Mifflin Harcourt, 9780151012985, 272pp.
Publication Date: June 1, 2007
* Individual store prices may vary.
or
Not Currently Available for Direct Purchase
Description
Pearce, an ex-con and Edinburgh hard man who's still recovering from the recent loss of his mother, is invited by the dysfunctional Baxter family to protect their pregnant sixteen-year-old daughter from her martial-arts-expert husband, Wallace—a man ten years her senior with a penchant for killing family pets. Having found out that the baby's not his, Wallace has sworn vengeance. Pearce declines the job: He's no babysitter. But when Wallace kills Pearce's dog, he goes too far. Now it's personal.
Revenge is part of the grieving process. But has Pearce finally met his match?Time to find out how many psychedelic drugs one man can take.Time to find out why Jesus is living in a cage in Wallace's basement.Time to find out who the real hard man is.
Praise For Hard Man…
PRAISE FOR KISS HER GOODBYE
"Delectably nasty."—THE NEW YORK POSTPRAISE FOR TWO-WAY SPLIT"A memorable, stunning and pitch-perfect debut . . . one you should grab forthwith. I can't remember a first novel this good in a long, long time."—ED GORMAN
"Like a Buster Keaton movie with bloodshed . . . Guthrie is such a witty and inventive stylist."
"Riveting, nasty, dark, violent and utterly compelling. I couldn't put it down."
"Buy it.
Hard Man
is already my favorite book of 2007."
"Cements Allan Guthrie''s reputation as one of the top new talents in the business."
"Blew me to hell and gone . . . line on line of wondrous expression . . . moved me in ways that hurt."
"No contest, no argument, this is one of the best crime novels of 2007."
"Takes your breath away . . . Among contemporary crime writers, Guthrie has few peers."
"
Hard Man
kept me grinning, wincing, and guessing right up until the wicked, wistful end. I loved it."
"Guthrie describes it all with skill, wit, and originality: I promise this is a story you haven''t read before."
"An Edinburgh festival of lip-smacking gruesomeness and black comedy, where every light at the end of the tunnel is an oncoming train."
"I laughed and flinched and gasped my way to the very end. A rich, breathless, gritty achievement."
"Guthrie stamps on all the conventions until you hear the bones snap. Strong characters, brilliantly realized, and a gripping narrative."
Advertisement