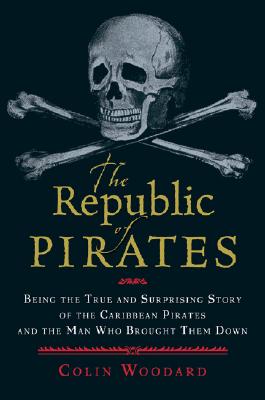 The Republic of Pirates
Being the True and Surprising Story of the Caribbean Pirates and the Man Who Brought Them Down
Hardcover

* Individual store prices may vary.
Other Editions of This Title:
Digital Audiobook (7/31/2015)
Paperback (5/12/2008)
Compact Disc (8/1/2015)
Compact Disc (5/1/2007)
MP3 CD (8/1/2015)
Compact Disc (8/1/2015)
Description
The inspiration for the NBC series "Crossbones." In the early eighteenth century a number of the great pirate captains, including Edward "Blackbeard" Teach and "Black Sam" Bellamy, joined forces. This infamous "Flying Gang" was more than simply a thieving band of brothers. Many of its members had come to piracy as a revolt against conditions in the merchant fleet and in the cities and plantations in the Old and New Worlds. Inspired by notions of self-government, they established a crude but distinctive form of democracy in the Bahamas, carving out their own zone of freedom in which indentured servants were released and leaders chosen or deposed by a vote. They were ultimately overcome by their archnemesis, Captain Woodes Rogers a merchant fleet owner and former privateer and the brief though glorious moment of the Republic of Pirates came to an end. In this unique and fascinating book, Colin Woodard brings to life this virtually unexplored chapter in the Golden Age of Piracy.
Praise For The Republic of Pirates: Being the True and Surprising Story of the Caribbean Pirates and the Man Who Brought Them Down…
PRAISE FOR COLIN WOODARD
"A tremendous reporter . . . and [a] strong, impassioned writer as well."—THE BOSTON GLOBEPRAISE FOR THE LOBSTER COAST"A beautifully considered history . . . Woodard's admiration for lobster culture is stirring . . . Mainers' feisty pluck remains undiminished in the face of obstacles."—NEWSDAY
"Woodard''s book explains how this fragile democracy came about, and why the pirates who populated it were actually better suited for such organization than their legends would have us believe."--Alexandria Gazette-Packet
"This breezy, fast-moving book is filled with exciting action and colorful characters. It will provide general readers and those with a special interest in the period much enjoyment."
"[C]hallenges what we think we know about these ruffians, dispelling notions of dictatorial rule aboard ship in favor of an image of egalitarianism."--Boston Magazine
"Using archive material from England, Spain, and the Americas, Woodard tells the real story, brief as it was, of the Caribbean pireates as they fought nature and empire."--Denver Post
"Disregard Robert Louis Stevenson''s rowdy buccaneers, the Disney factory''s lively rascals and those musical lads from Penzance: Here are the real pirates of the Caribbean, and the facts are as colorful and exciting as fiction."
"Fascinating... beyond rip-roaring adventure stories from the distant past, [the book offers] an opportunity to understand pirates as they truly were--and to be grateful that the worst of them, at least, are gone."--New York Times Book Review
"It''s a rollicking tale, filled with rich details of the lives of men who, for their own personal gain, challenged the spread of empires."
"[C]ontain[s] passages that are absolutely riveting, sometimes for their high-seas action, sometimes for their wicked illumination of life aboard an antiquated vessel at sea for months on end."--Toronto Star
"While American piracy extends from the 1600s until almost the end of the 19th century, the real heyday was the brief span 1715 to 1725 that Colin Woodard covers brilliantly in THE REPUBLIC OF PIRATES. This is the first incisive look at the world of Blackbeard, Stede Bonnet, Anne Bonny, and their compatriots, and it illuminates as never before one of the most storied yet misunderstood episodes in our past."
"Narrative history at its best."
Colin Woodard has produced a rollicking, gangplank-swaying read of a book...This scrupulously researched book strikes a balance of human interest, romance, drama, war, and historical fact--all key ingredients for an excellent read.
Woodard gives us a wonderful glimpse into the actual lives of pirates. For anyone who wishes to learn more about these forerunners of democracy on the high seas, THE REPUBLIC OF PIRATES is a must read.
Houghton Mifflin Harcourt, 9780151013029, 400pp.
Publication Date: May 1, 2007
or
Not Currently Available for Direct Purchase