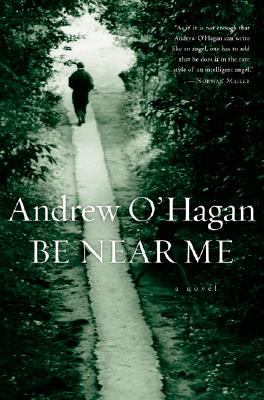 Be Near Me (Hardcover)
Houghton Mifflin Harcourt, 9780151013036, 320pp.
Publication Date: June 4, 2007
Other Editions of This Title:
Paperback (4/14/2008)
MP3 CD (12/1/2015)
MP3 CD (1/1/2009)
MP3 CD (4/23/2012)
Compact Disc (4/23/2012)
MP3 CD (4/23/2012)
Compact Disc (4/23/2012)
Pre-Recorded Audio Player (3/1/2009)
* Individual store prices may vary.
Description
"Always trust a stranger," said David's mother when he returned from Rome. "It's the people you know who let you down." Half a life later, David is Father Anderton, a Catholic priest with a small parish in Scotland. He befriends Mark and Lisa, rebellious local teenagers who live in a world he barely understands. Their company stirs memories of earlier happiness—his days at a Catholic school in Yorkshire, the student revolt in 1960s Oxford, and a choice he once made in the orange groves of Rome. But their friendship also ignites the suspicions and smoldering hatred of a town that resents strangers, and brings Father David to a reckoning with the gathered tensions of past and present. In this masterfully written novel, Andrew O'Hagan explores the emotional and moral contradictions of religious life in a faithless age.
About the Author
ANDREW O'HAGAN was born in Glasgow, Scotland. His previous novels have been awarded the Los Angeles Times Book Prize, the James Tait Black Memorial Prize, and the E. M. Forster Award.
Praise For Be Near Me…
PRAISE FOR BE NEAR ME

"What a powerful writer Andrew O'Hagan has become . . . Be Near Me is an elegy, a love story, a document of an era, beautifully imagined and composed."—JOYCE CAROL OATES

"As if it is not enough that Andrew O'Hagan can write like an angel, one has to add that he does it in the rare style of an intelligent angel. What a fine novel is Be Near Me."—NORMAN MAILER
"In gorgeous, melancholy prose, O'Hagan portrays a man who misapprehends both the community and himself, leading us on a thoughtful exploration of faith and of religion's role in an increasingly un-Catholic world--and, eventually, of the simple need to love and be loved....A rich and fascinating novel that promises rewards with rereading."
— Booklist
"Beautifully written...[O'Hagan has] an ear for dialogue, and nuance in single sentences lit by unexpected insights."
— Bookpage
"[A] beautiful, astute novel. A-"
— Entertainment Weekly
"An impeccably crafted, philosophically framed account of the decline and disgrace of an impressionable Catholic priest. UK author O'Hagan turns to questions of insight in a beautiful but ruined 21st-century landscape." (starred)
— Kirkus Reviews
"O'Hagan keeps both accused and accusers human and even noble. The most minor characters are drawn with truth and complexity, and O'Hagan's prose is stylistically dazzling, as crafted and lovely as the best poetry."
— Library Journal
"O'Hagan may have snatched the subject from today's headlines, but with remarkable skill he turns potential tabloid fare on its head...There is a graceful quality to [this novel's] circuitousness, which, despite the gravity of the subject, shows off O'Hagan's dark wit and deftness in characterization."
— Art Winslow
"For all the death and, mostly repressed, sex that loom over this novel, Be Near Me is generously strewn with gentle ironies and not without moments of outright comedy...O'Hagan is mostly concerned with human frailty, a problem at once moral, aesthetic, and metaphysical."
— New York Sun
"This burnished gem of a novel has drama, emotional resonance and intellectual power enough to recall one's favorite 19th century writers...[A] heartrending tour de force." (Starred)
— Publishers Weekly
"One of the remarkable things about Be Near Me...is the texture and even beauty is lends to Anderton's downfall. At a glance, the priest might seem repellent, but O'Hagan infuses him with so much complexity that his undoing...becomes undeniably tragic."
— Time Out New York
"Be Near Me is about a man distanced from everyone, most especially himself...Andrew O'Hagan asks us implicitly to look at our own lives, ask ourselves how clueless we may be, as we try, with courage or cowardice or both, to get from this particular day on to the next."
— Carolyn See
"Tragic, powerful, and moving, with insight into the world of English-Scottish politics, this is a book that is somewhat challenging to absorb because of its intensity, but that very factor makes it worthwhile."
— Hilary Daninhirsch
or
Not Currently Available for Direct Purchase