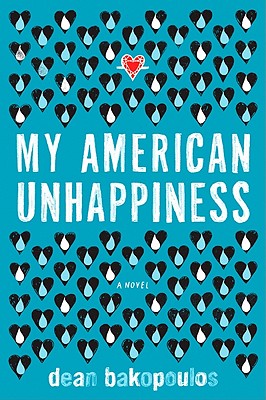 My American Unhappiness
Hardcover

* Individual store prices may vary.
Other Editions of This Title:
Paperback (7/3/2012)
Description
"Why are you so unhappy?" That's the question that Zeke Pappas, a thirty-three-year-old scholar, asks almost everybody he meets as part of an obsessive project, "The Inventory of American Unhappiness." The answers he receives—a mix of true sadness and absurd complaint—create a collage of woe. Zeke, meanwhile, remains delightfully oblivious to the increasingly harsh realities that threaten his daily routine, opting instead to focus his energy on finding the perfect mate so that he can gain custody of his orphaned nieces. Following steps outlined in a women's magazine, the ever-optimistic Zeke identifies some "prospects": a newly divorced neighbor, a coffeehouse barista, his administrative assistant, and Sofia Coppola ("Why not aim high?"). 

A clairvoyant when it comes to the Starbucks orders of strangers, a quixotic renegade when it comes to the federal bureaucracy, and a devoted believer in the afternoon cocktail and the evening binge, Zeke has an irreverent voice that is a marvel of lacerating wit and heart-on-sleeve emotion, underscored by a creeping paranoia and made more urgent by the hope that if he can only find a wife, he might have a second chance at life.
Praise For My American Unhappiness…
My American Unhappiness "shimmers with mischief and offbeat charm. A dark entertainment infused by a bluesy yearning for a better America."
-Kirkus Reviews"Bakopoulos writes with great heart and a cold eye, and his limpid, ironic prose will appeal to those who like the early work of Martin Amis."
-Library Journal"My American Unhappiness is a smart, funny, charming novel - an incisive critique of the way we live now, but aremed, unlike contemporary satire, with a big, generous heart. I got addicted to the misadventures of Zeke Pappas. I didn't want the book to end."
-Dan Chaon, author of Await Your Reply

"In Zeke Pappas, Dean Bakopoulos has invented a man for all rainy seasons - a horny, heartbroken cousin of Richard Ford's Frank Bascombe, telling a long, tall tale of anomie in the heartland."
-Tom Piazza, author of City of Refuge

"If the nature of despair, as Kierkegaard wrote, is to be unaware of itself, then Zeke Pappas is its perfect spokesman: a blithely deluded nebbish whose epic longings—to document the emptiness at the center of American life and to win the heart of Sofia Coppola and/or his local Starbucks barista—propel him into ever more twisted predicaments. There's no such thing as unhappiness when you're holding a Dean Bakopoulos novel in your hands."
- Jonathan Miles, author of Dear American Airlines

"Vivid as a searchlight gliding across suburban picture windows , MY AMERICAN UNHAPPINESS displays its author's saddened comic wisdom, as apparently self-effacing as it is marvelously inventive and observant. Dean Bakopoulos is a writer to watch, a novelist to cherish."
- Peter Straub, author of A Dark Matter

"Zeke Pappas, the visionary behind the American Unhappiness project, is the perfect hero for our times - an age of J. Crew catalogs and Starbucks lattes, of political absurdities and almost-fractured families barely holding themselves together. In telling Zeke's story, Dean Bakopoulos brings together razor-sharp comic timing, brilliant social commentary, and big-hearted compassion that embraces the imperfection of American life. The result is a smart, funny and exceptionally entertaining book."
-Alix Ohlin, author of Babylon and Other Stories"My American Unhappiness is a major accomplishment from one of my generation's finest storytellers, a profoundly funny, moving, beautifully-detailed, and ultimately hopeful portrait of our country in a certain moment. Its self-deprecating hero, Zack Pappas, earnest, kind, and brooding, with wry intelligence and deep compassion, is indelible. I loved every page of this book. The torch has been passed -- Dean Bakopoulos is our next great Midwestern writer."
- Davy Rothbart, The Lone Surfer of Montana, Kansas: Stories, founder and editor of Found Magazine, contributor to public radio'sThis American Life"Dean Bakopoulos in an American prophet -- who divines the end of optimism in this brilliant new novel that will choke you with tears and laughter. My American Unhappiness deserves a hallowed place on the shelf somewhere among Studs Terkel's Working and Walker Percy's The Moviegoer. "
- Benjamin Percy, The Wilding  and Refresh, Refresh
Houghton Mifflin Harcourt, 9780151013449, 288pp.
Publication Date: June 7, 2011
About the Author
Dean Bakopoulos is the author of the novel Please Don't Come Back from the Moon, a New York Times Notable Book, and the recipient of fellowships from the National Endowment for the Arts and the Guggenheim Foundation. He is on the faculty at Iowa State University and the Warren Wilson MFA Program for Writers.
or
Not Currently Available for Direct Purchase