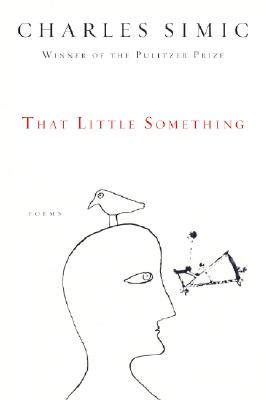 That Little Something
Poems
Hardcover

* Individual store prices may vary.
Other Editions of This Title:
Paperback (4/17/2009)
Description
In his eighteenth collection, Charles Simic, the superb poet of the vaguely ominous sound and the disturbing, potentially significant image, moves closer to the dark heart of history and human behavior.
Simic understands the strange interplay between ordinary life and extremes, between reality and imagination, and he writes with absolute purity about those contradictory but simultaneous states of being or feeling: "Everything about you / My life, is both / Make-believe and real."
A profoundly important poet for our time, and a stunning book.
SECRET HISTORY
Of the light in my room:
Its mood swings,
Dark-morning glooms,
Summer ecstasies.
Spider on the wall,
Lamp burning late,
Shoes left by the bed,
I'm your humble scribe.
Dust balls, simple souls
Conferring in the corner.
The pearl earring she lost,
Still to be found.
Silence of falling snow,
Night vanishing without trace,
Only to return.
I'm your humble scribe.
Praise For That Little Something: Poems…
"Simic''s concise, silvery, and sardonic poems sketch grim vignettes in a world of absences... Simic, a pivotal voice of our bloody times, draws on dark fairy tales, Shakespeare, and pulp fiction as his poems rise from the page like the smoke of the last cigarettes of the damned."

"Among living, secular poets, Pulitzer Prize winner Simic (The World Doesn''t End) has fashioned a career addressing the unfashionable subject of evil. He''s peculiarly attuned to its presence, whether it haunts the human psyche, or, as in his 18th collection, it hides in neglected, night-shrouded crannies of the known world... A soulmate of Kafka and an anthropologist of the unknowable, Simic writes poems that read like field notes on ''the unreality of us being here''...the poet''s vigorous ''life long rebellion/ against that monster Eternity'' hasn''t abated."
Houghton Mifflin Harcourt, 9780151013593, 96pp.
Publication Date: April 1, 2008
or
Not Currently Available for Direct Purchase