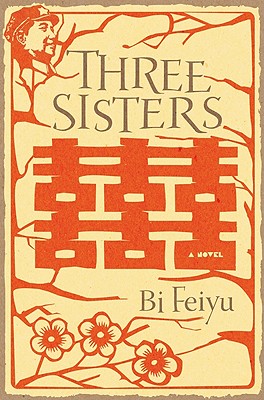 Three Sisters (Hardcover)
Houghton Mifflin Harcourt, 9780151013647, 288pp.
Publication Date: August 1, 2010
* Individual store prices may vary.
or
Not Currently Available for Direct Purchase
Description
In a small village in China, the Wang family has produced seven sisters in its quest to have a boy; three of the sisters emerge as the lead characters in this remarkable novel. From the small-town treachery of the village to the slogans of the Cultural Revolution to the harried pace of city life, Bi Feiyu follows the women as they strive to change the course of their destinies and battle against an infinite ocean of people in a China that does not truly belong to them. Yumi will use her dignity, Yuxiu her powers of seduction, and Yuyang her ambition all in an effort to take control of their world, their bodies, and their lives.
Like Dai Sijie's Balzac and the Little Chinese Seamstress, Arthur Golden's Memoirs of a Geisha, and J.G. Ballard's Empire of the Sun, Three Sisters transports us to and immerses us in a culture we think we know but will understand much more fully by the time we reach the end. Bi's Moon Opera was praised by the Los Angeles Times, the Minneapolis Star Tribune, and other publications. In one review Lisa See said: I hope this is the first of many of Bi's works to come to us. Three Sisters fulfills that wish, with its irreplaceable portrait of contemporary Chinese life and indelible story of three tragic and sometimes triumphant heroines.

Praise For Three Sisters…
San Francisco Chronicle, Top Shelf, Recommended Reading
PRI's "The World" Book Recommendations from Afar

MAN ASIA PRIZE WINNER 
"A moving exploration of Chinese family and village life during the Cultural Revolution, that moves seamlessly between the epic and the intimate, the heroic and the petty, illuminating not only individual lives but an entire society, within a gripping tale of familial conflict and love." – Man Asia Literary Prize
"Engaging . . . [Three Sisters] documents in palpably human terms the low value accorded the lives of women in China and the deep divide in that country between rural and urban areas. . . . This is a China that few Westerners know. Bi Feiyu makes it real and believable in this charming, surprising novel." —Washington Post Book World
"Charming . . . An eye-opening read for anyone curious about the Cultural Revolution, the mores of the families struggling to survive in China's small villages, and the lives of the seemingly sexless women who labored so stoically in their Mao jackets." —Worlds Book Review, PRI's "The World"
"Yumi's story in particular imparts the flavor of a time and place alien to us, the waning years of the Cultural Revolution in a crude farming village." —
Boston Globe

"Bi's compelling and unsentimental book...draws a meticulous picture of a transitioning village in '70s China, and in so doing, Bi has created memorable characters. . . . Despite the cruelty and suffering, there is hope in Bi's book, which lies mainly in the three young women's defiance of life's privations and their determination to find a new future for themselves against all odds. In this sense, they transcend their depressing conditions and, ultimately, inspire the reader." —
San Francisco Chronicle

"A stunning portrayal of women's lives in China." —
Socialist Review 

"Bi Feiyu, one of China's most distinguished writers, tells the captivating story of three sisters and the challenges they face in modern China. A vivid portrayal of the differences between country and city life." —CultureCritic
"A complex moral tale that also illuminates the country's rise from sleeping tiger to global power. . . . human spirit is complex and the real moral of the tale, Bi slyly suggests, is that there will be a price to pay for China's awakening." —
Independent
(UK)
"With a mercilessly satirical eye, Bi observes domestic and communal life in late 20th-century China as three of the seven daughters of Wang Lianfang strive for identity and self-respect." —
Publishers Weekly
(starred review)
"Bi Feiyu delivers a moving tale of three sisters struggling to take control of their lives in the years after the Cultural Revolution. Their heroic endurance of petty cruelties and unfair obstacles feels universal for the time and place, yet Bi brilliantly traces this widespread societal pain back to its source, deep in human nature--then shows how it is passed from one individual life to another. A profound, illuminating novel." --Nicole Mones, author of The Last Chinese Chef and Lost in Translation

"Bi Feiyu has crafted a macabre yet empathetic tapestry out of the lives of three sisters amidst the byzantine webs of revolutionary sexism during the Cultural Revolution. He leads us through China's equivalents of the scarlet letter, reminding us that the legacy of women as second place remains an unacknowledged undertow, and giving the reader compelling insights within a spell-binding tale of love and hatred, defeat and victory, resignation and redemption." —William Poy Lee, author of The Eighth Promise 


"One of China's best contemporary novelists, Bi Feiyu has created an insightful portrait of China during the past half a century with a tale both epic and intimate. Three Sisters is an important novel." —Yiyun Li, author of The Vagrants and A Thousand Years of Good Prayers
"A thrilling family epic that depicts China's dispossessed longings and love." —Xiaolu Guo, author of A Concise Chinese-English Dictionary for Lovers
Advertisement