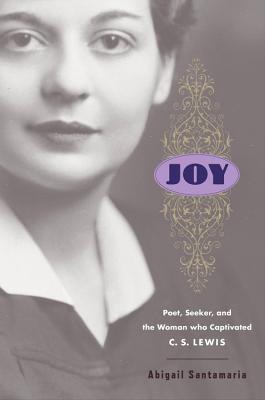 Joy
Poet, Seeker, and the Woman Who Captivated C. S. Lewis
Hardcover

* Individual store prices may vary.
Other Editions of This Title:
Digital Audiobook (8/3/2015)
Compact Disc (8/4/2015)
MP3 CD (8/4/2015)
Compact Disc (8/4/2015)
Description
The first full biography of Joy Davidman brings her out from C. S. Lewis's shadow, where she has long been hidden, to reveal a powerful writer and thinker.

Joy Davidman is known, if she is known at all, as the wife of C. S. Lewis. Their marriage was immortalized in the film Shadowlands and Lewis's memoir, A Grief Observed. Now, through extraordinary new documents as well as years of research and interviews, Abigail Santamaria brings Joy Davidman Gresham Lewis to the page in the fullness and depth she deserves.

A poet and radical, Davidman was a frequent contributor to the communist vehicle New Masses and an active member of New York literary circles in the 1930s and 40s. After growing up Jewish in the Bronx, she was an atheist, then a practitioner of Dianetics; she converted to Christianity after experiencing a moment of transcendent grace. A mother, a novelist, a vibrant and difficult and intelligent woman, she set off for England in 1952, determined to captivate the man whose work had changed her life.

Davidman became the intellectual and spiritual partner Lewis never expected but cherished. She helped him refine his autobiography, Surprised by Joy, and to write his novel Till We Have Faces. Their relationship—begun when Joy wrote to Lewis as a religious guide—grew from a dialogue about faith, writing, and poetry into a deep friendship and a timeless love story.
 
Praise For Joy: Poet, Seeker, and the Woman Who Captivated C. S. Lewis…
Christianity Today Book Awards 2016, Award of Merit in History/Biography
Shortlisted for the Christian Book Awards

"[An] impressive debut biography...Santamaria has fashioned a compelling narrative, remaining cleareyed about her subject's many personal failings."—Kirkus

"Santamaria's debut is sure to get attention from C.S. Lewis scholars and fans...Those who want to know the real ­Davidman will discover a woman in search of purpose and meaning who finally finds it in the faith and person of Lewis."—Library Journal

"Joy captures the toughness, the dreams, the hypocrisy, of a complex and controversial woman."—BBC.com, One of Ten Books to Read in August

"This book gives Davidman her life back. . . Ms. Santamaria succeeds in de-mythologizing Davidman's story."—The Wall Street Journal

"The narrative is crisp, and the subject matter is original and captivating. Santamaria examines Joy Davidman through a lens simultaneously critical and tender. Rather than presenting Lewis and his wife as saints, she depicts them as God's sinful patients. Out of the many books published on Lewis, his contemporaries, and his writings in recent years, this one most thoroughly grabbed my attention."—John G. Turner, professor of religious studies, George Mason University, Christianity Today 2016 Book Awards

"A relentlessly focused and detailed biography of Joy Davidman…This serious and substantial work takes the reader far beyond the familiar romance and play Shadowlands, and the brilliance of Lewis's meditation on Davidman's death, A Grief Observed…This groundbreaking study contributes not just to the established Lewis studies, but brings to the foreground the cost of being a talented woman in a patriarchal world. It makes a case for the possibility of Christian faith in a compromised world with elegance and skill."— Church Times

"[A] biography as compelling as fiction."—The Charlotte Observer

"Santamaria's sympathetic and clear-eyed portrait of Joy Davidman might surprise people who assume that confirmed bachelor C.S. Lewis would fall only for an especially godly woman. Santamaria, relying heavily on Joy's own writings, paints a vivid portrait of the pre-Lewis Davidman. It's a fascinating portrait of Davidman's childhood in New York, her radical college years and membership in the Communist Party, her rocky marriage to Bill Gresham, and her long-distance infatuation with Lewis, whom she pursued with single-minded focus despite her marriage. Santamaria highlights Davidman's literary brilliance and shows her growing reliance on Christ."—World Magazine

"A clear-eyed, insightful portrait of a fascinating woman, Santamaria's biography adds important depth and richness to the popular image of Joy Davidman."—Shelf Awareness

"I now know that the life of Joy Davidman is a remarkable story, thanks to Abigail Santamaria's recently published Joy...[It] adds a full measure of humanity and tenderness...Out of the growing heap of books about Lewis's life and writings, Joy is an essential contribution."—Patheos

"Joy is compelling even for the Lewis-indifferent, like me. In Santamaria's clear, unsentimental telling . .  Reminded how love can befall us all, I felt better about life." -- Mark Oppenheimer, The New York Times Book Review

"Humans are complex, and Santamaria has the guts to sacrifice simplicity and resolution to expose that truth. Joy is a story about longing and searching, hope and heartache. Every now and then, it's about seeing. More than anything else, then, Santamaria's portrait of Joy showed me the complexity of faith. It's a tough complexity, but a beautiful one nonetheless."—Gospel Coalition

"Abigail Santamaria has written a luscious Narnia tale for grownups, a literary biography that takes the shape of a quest narrative as the brilliant idealistic Joy Davidman Gresham, writer and free spirit, adopts one cause after another until finally setting her cap for her spiritual mentor, C. S. "Jack" Lewis.  Santamaria's astonishing detective work reveals the surprising truth behind Lewis's description of the couple as 'a sinful woman married to a sinful man,' even as she portrays their late-life love affair as salvational to them both."
—Megan Marshall, Pulitzer Prize-winning author of Margaret Fuller: A New American Life

"A biography about the brilliant and brash New Yorker who captured C.S. Lewis's heart was long overdue, so I'm thrilled to report that Abigail Santamaria does not disappoint. Her highly readable book should be the definitive biography of Joy Davidman for a long time to come."
—Eric Metaxas, New York Times best-selling author of Miracles and Bonhoeffer

"Joy is a delightful and fast-paced romp through a fascinating life.  I read most of this book in one sitting, genuinely curious about whether this feisty, brilliant woman was going to get her happy ending.  A truly impressive, even enviable, debut for a writer and a historian."
—Debby Applegate, Pulitzer Prize-winning author of the forthcoming Madam: The Notorious Life and Times of Polly Adler

"Superbly researched and stylishly written, Joy dissolves the soft-focus romanticism of Shadowlands and brings before us a real-life woman in all her complexity.  Abigail Santamaria, in a fine first work, guides us expertly and fair-mindedly round the beautiful ruins of an extraordinary life."
—Michael Ward, University of Oxford, co-editor of The Cambridge Companion to C.S. Lewis

"Joy Davidman was manipulative, endearing, brilliant, and obsessive—and C.S. Lewis, one of the most influential and beloved spiritual writers of the twentieth century, fell in love with all of it. A complicated woman for our time, Davidman's search for meaning and her final arrival at love will resonate deeply long after the reader has closed Santamaria's masterful biography."
— Kate Buford, author of Native American Son: The Life and Sporting Legend of Jim Thorpe

"A tour de force. Plumbing the depths of unpublished documents, Santamaria reveals the vision and writing of a young woman whose coming of age in the turbulent thirties is both distinctive and emblematic of her time."
— Susan Hertog, author of Anne Morrow Lindbergh: Her Life

"This brilliantly researched biography has changed me for good. Until I read this book I could never take Joy Davidman to my heart; she now stands before me as real and believable as anyone I know. Joy offers a wonderful account of an unforgettable woman and her vibrant life; it is no wonder C.S. Lewis loved her so much."
—Walter Hooper, personal secretary to C.S. Lewis and editor of The Collected Letters of C.S. Lewis
Houghton Mifflin Harcourt, 9780151013715, 432pp.
Publication Date: August 4, 2015
About the Author
Abigail Santamaria earned an MFA in nonfiction writing from Columbia University and has been awarded fellowships from the Ragdale Foundation, Jentel Arts, and the Virginia Center for the Creative Arts. She lives in New York City with her family. Joy is her first book.
or
Not Currently Available for Direct Purchase