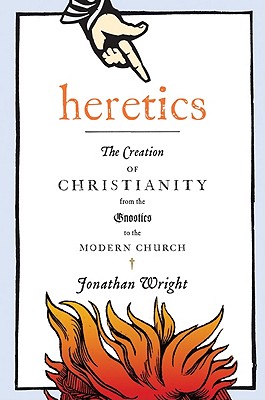 Heretics (Hardcover)
The Creation of Christianity from the Gnostics to the Modern Church
Houghton Mifflin Harcourt, 9780151013876, 352pp.
Publication Date: April 27, 2011
* Individual store prices may vary.
Description
In Heretics Jonathan Wright charts the history of dissent in the Christian Church through the stories of some of its most emblematic heretics—from Arius, a fourth-century Libyan cleric who doubted the very divinity of Christ, to more successful heretics like Martin Luther and John Calvin. As he traces the Church's attempts at enforcing orthodoxy, from the days of Constantine to the modern Catholic Church's lingering conflicts, Wright argues that heresy, by forcing the Church to continually refine and impose its beliefs, actually helped Christianity to blossom into one of the world's most formidable and successful religions. 

Today, all believers owe it to themselves to grapple with the questions raised by heresy. Can you be a Christian without denouncing heretics? Is it possible that new ideas challenging Church doctrine are destined to become as popular as have Luther's once outrageous suggestions of clerical marriage and a priesthood of all believers? A delightfully readable and deeply learned new history, Heretics overturns our assumptions about the role of heresy in a faith that still shapes the world.
About the Author
JONATHAN WRIGHT received his doctorate in history from Oxford University. He has been a Thouron fellow at the University of Pennsylvania and a fellow of the Institute for European History in Mainz, Germany. He is also the author of God's Soldiers, a history of the Jesuits that has been translated into nine languages, and The Ambassadors. 
Praise For Heretics: The Creation of Christianity from the Gnostics to the Modern Church…
Heretics, by Jonathan Wright (Houghton Mifflin Harcourt; $28). In this chatty primer, Wright emphasizes the "extraordinarily creative role" that heresy has played in the evolution of Christianity by helping to "define, enliven, and complicate" it in dialectical fashion. Among the world's great religions, Christianity has been uniquely rich in dissent, Wright argues—especially in its early days, when there was so little agreement among its adherents that one critic compared them to a marsh full of frogs croaking in discord. The fractiousness, he suggests, springs both from the worldly power that Christians achieved, which insured that the line between orthodoxy and heresy was sharply policed, and from enduringly confusing elements of Christian doctrine, such as the issue of Jesus' dual nature as god and man. Wright, though his prose is sometimes marred by creaky Oxbridge wit, navigates all the theological complications deftly.--The New Yorker
or
Not Currently Available for Direct Purchase