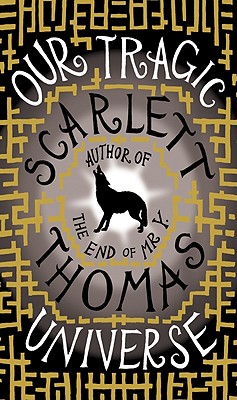 Our Tragic Universe (Hardcover)
Houghton Mifflin Harcourt, 9780151013913, 384pp.
Publication Date: September 1, 2010
Other Editions of This Title:
Digital Audiobook (9/30/2010)
Paperback (5/12/2011)
Compact Disc (12/14/2010)
Compact Disc (10/1/2010)
Paperback (4/1/2011)
Paperback (4/1/2011)
Paperback (4/1/2011)
* Individual store prices may vary.
Description
Can a story save your life?

Meg Carpenter is broke. Her novel is years overdue. Her cell phone is out of minutes. And her moody boyfriend's only contribution to the household is his sour attitude. So she jumps at the chance to review a pseudoscientific book that promises life everlasting.

But who wants to live forever?

Consulting cosmology and physics, tarot cards, koans (and riddles and jokes), new-age theories of everything, narrative theory, Nietzsche, Baudrillard, and knitting patterns, Meg wends her way through Our Tragic Universe, asking this and many other questions. Does she believe in fairies? In magic? Is she a superbeing? Is she living a storyless story? And what's the connection between her off-hand suggestion to push a car into a river, a ship in a bottle, a mysterious beast loose on the moor, and the controversial author of The Science of Living Forever?

Smart, entrancing, and boiling over with Thomas's trademark big ideas, Our Tragic Universe is a book about how relationships are created and destroyed, how we can rewrite our futures (if not our histories), and how stories just might save our lives.
About the Author
SCARLETT THOMAS is the author of PopCo and The End of Mr. Y. She has been nominated for the Orange Prize and named Writer of the Year by Elle UK, one of the twenty best young writers by the Independent, and one of the Telegraph's 20 best writers under 40.
Praise For Our Tragic Universe…
"Few writers can mix science, philosophy, and humor as cleverly as Thomas..." —
Library Journal
 A "delightfully whimsical novel"...Thomas "dexterously mixes the serious with the humorous..."
—
Publishers Weekly
A "freewheeling intellectual journey with no destination. ... For the omnivorous reader who, like Meg, can't get enough of the insights and passions and theories and inner lives of others, Thomas's fifth novel should be an addictive delight." —
Kirkus Reviews
"Thomas brilliantly reminds us that, despite popular representations, many women are actually staying up half the night talking ideas. One feels alone. And then one reads
Our Tragic Universe
." —Jincy Willett, author of
Winner of the National Book Award

"A delight, not least for the quality of Scarlett Thomas's writing, which is full of a very enjoyable life and energy." —Philip Pullman
 "Our Tragic Universe surprised me with where it goes, and in such a terrific way. Scarlett Thomas's prose is so addictive you can't help but fall deeper and deeper under her spell. How does she do it? She is a genius." —Douglas Coupland
or
Not Currently Available for Direct Purchase