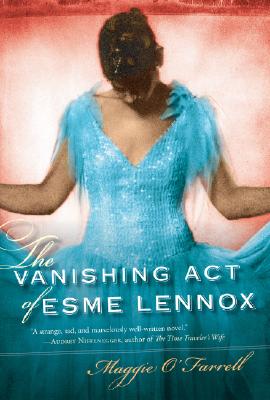 The Vanishing Act of Esme Lennox (Hardcover)
Houghton Mifflin Harcourt, 9780151014118, 256pp.
Publication Date: October 1, 2007
* Individual store prices may vary.
or
Not Currently Available for Direct Purchase
Description
In the middle of tending to the everyday business at her vintage-clothing shop and sidestepping her married boyfriend's attempts at commitment, Iris Lockhart receives a stunning phone call: Her great-aunt Esme, whom she never knew existed, is being released from Cauldstone Hospital—where she has been locked away for more than sixty-one years.

Iris's grandmother Kitty always claimed to be an only child. But Esme's papers prove she is Kitty's sister, and Iris can see the shadow of her dead father in Esme's face. 

Esme has been labeled harmless—sane enough to coexist with the rest of the world. But she's still basically a stranger, a family member never mentioned by the family, and one who is sure to bring life-altering secrets with her when she leaves the ward. If Iris takes her in, what dangerous truths might she inherit?

A gothic, intricate tale of family secrets, lost lives, and the freedom brought by truth, The Vanishing Act of Esme Lennox will haunt you long past its final page.
Praise For The Vanishing Act of Esme Lennox…
PRAISE FOR THE VANISHING ACT OF ESME LENNOX "I found this actually unputdownable, written with charge and energy and a kind of compelling drive, a clarity and a gripping dramatic insidiousness reminiscent of classic writers like Rebecca West and Daphne du Maurier." --Ali Smith

"Almost ridiculously pleasurable . . . shocking, heartbreaking, and fascinating." --The Times (London)

"This haunting and extraordinarily engrossing novel--part gothic mystery, part tangled family drama--reminded me why I love reading in the first place: it''s because a well-written book has the power to carry us away to a place we''ve never been but always suspected it was there. I''m grateful to Maggie O''Farrell for revealing this story to the world of readers."
-Carolyn Parkhurst

"The Vanishing Act of Esme Lennox is a strange, sad, and a marvelously well-written novel. I would like to think that families only behave this way in books, but unfortunately betrayal, jealousy, and secrets are all too common in real life. It was a terrific book, I will be thinking about it for a long time."
-Audrey Niffenegger

"O''Farrell''s fourth novel brilliantly illustrates her talent for gradually revealing her characters'' inner lives by jumping back and forth in time and juxtaposing different narrative points of view.... A gripping read with superbly crafted scenes that will blaze in the reader''s memory long after the novel is returned to the shelf."

"A moving human drama."
Advertisement