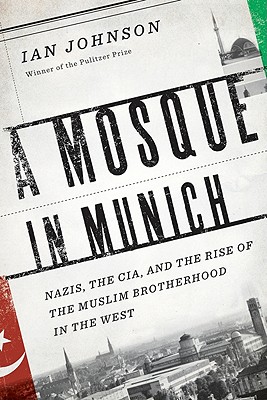 A Mosque in Munich
Nazis, the CIA, and the Rise of the Muslim Brotherhood in the West
Hardcover

* Individual store prices may vary.
Other Editions of This Title:
Paperback (8/10/2011)
Description
In the wake of the news that the 9/11 hijackers had lived in Europe, journalist Ian Johnson wondered how such a radical group could sink roots into Western soil. Most accounts reached back twenty years, to U.S. support of Islamist fighters in Afghanistan. But Johnson dug deeper, to the start of the Cold War, uncovering the untold story of a group of ex-Soviet Muslims who had defected to Germany during World War II. There, they had been fashioned into a well-oiled anti-Soviet propaganda machine. As that war ended and the Cold War began, West German and U.S. intelligence agents vied for control of this influential group, and at the center of the covert tug of war was a quiet mosque in Munich--radical Islam's first beachhead in the West.
Culled from an array of sources, including newly declassified documents, A Mosque in Munich interweaves the stories of several key players: a Nazi scholar turned postwar spymaster; key Muslim leaders across the globe, including members of the Muslim Brotherhood; and naive CIA men eager to fight communism with a new weapon, Islam. A rare ground-level look at Cold War spying and a revelatory account of the West's first, disastrous encounter with radical Islam, A Mosque in Munich is as captivating as it is crucial to our understanding the mistakes we are still making in our relationship with Islamists today

Praise For A Mosque in Munich: Nazis, the CIA, and the Rise of the Muslim Brotherhood in the West…
"Intriguing . . . a tirelessly researched investigation"—Kirkus Reviews "I thought I knew something about blowback. But Ian Johnson has unearthed an extraordinary episode of disastrous American judgment that begins well over half a century ago, whose full consequences we've not yet seen. It's a chilling piece of history few people know, and he tells the story with a novelist's skill." —Adam Hochschild, author of King Leopold's Ghost "Ian Johnson is more than a brilliant journalist and tireless researcher; he is a writer of the first rank. His story of an extraordinary Muslim community in Germany is instructive, enlightening, and beautifully done."—Ian Buruma, author of Murder in Amsterdam: The Death of Theo Van Gogh and the Limits of Tolerance "Johnson's literary sensibility gives life to this amazing period, with a cast of characters ranging from exiled Uzbeks to suave CIA agents with a taste for nudist camps. Along the way, he shows how the battle against Communism unwittingly contributed to the development of today's terrorist organizations."—Peter Hessler, author of Oracle Bones
Houghton Mifflin Harcourt, 9780151014187, 336pp.
Publication Date: May 1, 2010
Coverage from NPR
or
Not Currently Available for Direct Purchase