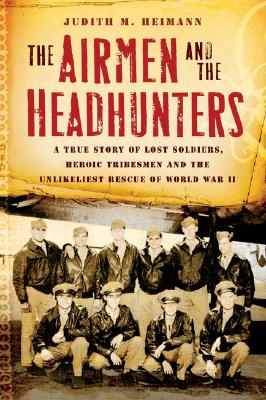 The Airmen and the Headhunters: A True Story of Lost Soldiers, Heroic Tribesmen and the Unlikeliest Rescue of World War II (Hardcover)
A True Story of Lost Soldiers, Heroic Tribesmen and the Unlikeliest Rescue of World War II
Houghton Mifflin Harcourt, 9780151014347, 304pp.
Publication Date: October 1, 2007
* Individual store prices may vary.
or
Not Currently Available for Direct Purchase
Description
N ovember 1944: Army airmen set out in a B-24 bomber on what should have been an easy mission off the Borneo coast. Instead they found themselves unexpectedly facing a Japanese fleet--and were shot down. When they cut themselves loose from their parachutes, they were scattered across the island's mountainous interior. Then a group of loincloth-wearing natives silently materialized out of the jungle. Would these Dayak tribesmen turn the starving airmen over to the hostile Japanese occupiers? Or would the Dayaks risk vicious reprisals to get the airmen safely home? The tribal leaders' unprecedented decision led to a desperate game of hide-and-seek, and, ultimately, the return of a long-renounced ritual: head-hunting. A cinematic survival story that features a bamboo airstrip built on a rice paddy, a mad British major, and a blowpipe-wielding army that helped destroy one of the last Japanese strongholds, The Airmen and the Headhunters is a gripping, you-are-there journey into the remote world and forgotten heroism of the Dayaks.
Praise For The Airmen and the Headhunters: A True Story of Lost Soldiers, Heroic Tribesmen and the Unlikeliest Rescue of World War II…
PRAISE FOR THE MOST OFFENDING SOUL ALIVE

"Lively and scrupulously researched." --The New Yorker

"Explorer, museum curator, guerilla fighter, pioneer sociologist, documentary filmmaker, anthropologist--Tom Harrisson was all these things. He was also arrogant, choleric, swashbuckling, often drunk, and nearly always deliberately outrageous. In spite of these contradictions, he became a key figure in every enterprise he undertook . . . A brilliant and insightful biography." --David Attenborough

"The Airmen and the Headhunters is an engaging and unique tale of courage and rescue. Heimann has created a nuanced portrait of Borneo and a fascinating group of truly heroic tribesmen."

"At first the downed Flyboys thought their hosts to be savage. But by the end of their remarkable journey, the Americans learned just how civilized headhunters can be. Judith Heimann has uncovered a dramatic, touchingly human tale in the jungle forests of Borneo."

"Sixty years later, World War II is still giving up its secrets. The Airmen and the Headhunters recovers a forgotten tale from the far Pacific that should interest anyone who cares about the gallantry of our aviators who flew into harm''s way."

"Heimann brings a visceral urgency to one of WWII''s most unlikely tales. Along the way, she makes us like the airmen rethink our definitions of civilized and savage."

"[F]ew writers could have tracked down this captivating story. [Heimann] paints a vivid picture of the indigenous people who comfortably inhabited the dense jungle and carried on a flourishing trade with the coast... A fascinating anthropology lesson, delivered with the bonus of a dramatic adventure and a happy ending."

"Heimann rivets one''s attention."
Advertisement