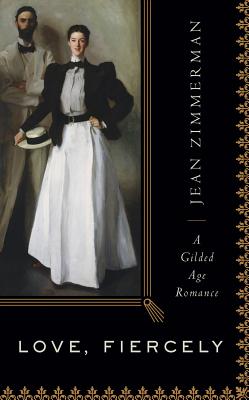 Love, Fiercely (Hardcover)
A Gilded Age Romance
Houghton Mifflin Harcourt, 9780151014477, 336pp.
Publication Date: March 13, 2012
* Individual store prices may vary.
Description
The New York love story of a beautiful heiress and a wealthy young architect, captured in a famous John Singer Sargent painting
In Love, Fiercely Jean Zimmerman re-creates the glittering world of Edith Minturn and Isaac Newton Phelps Stokes. Contemporaries of the Astors and Vanderbilts, they grew up together along the shores of bucolic Staten Island, linked by privilege—her grandparents built the world's fastest clipper ship, his family owned most of Murray Hill. Theirs was a world filled with mansions, balls, summer homes, and extended European vacations.
Newton became a passionate preserver of New York history and published the finest collection of Manhattan maps and views in a six-volume series. Edith became the face of the age when Daniel Chester French sculpted her for Chicago's Columbian Exposition, a colossus intended to match the Statue of Liberty's grandeur. Together Edith and Newton battled on behalf of New York's poor and powerless as reformers who never themselves wanted for anything. Through it all, they sustained a strong-rooted marriage.
From the splendid cottages of the Berkshires to the salons of 1890s Paris, Love, Fiercely is the real story of a world long relegated to fiction.
About the Author
Jean Zimmerman is the author of four previous books, including The Women of the House: How a Colonial She-Merchant Built a Mansion, a Fortune and a Dynasty. She earned an MFA in writing from the Columbia University School of the Arts and has published her poetry widely in literary magazines. She lives with her family in Westchester County, New York.
Praise For Love, Fiercely: A Gilded Age Romance…
"Love, Fiercely is an exquisitely-rendered portrait of passion and privilege in the Gilded Age."
—Deborah Davis, author of Strapless: John Singer Sargent and the Fall of Madame X
Demonstrating the same flare as in her previous biography, Zimmerman (
The Women of the House: How a Colonial She-Merchant Built a Mansion, a Fortune, and a Dynasty
) pays respect to the lives and times of Edith Minturn Stokes and Isaac Newton Phelps Stokes
.
Edith and Newton, as he was called, who married in 1895, were born in New York to immense privilege and became patrons of the arts and advocates for immigrant rights. The two knew each other as children and eventually fell in love. Newton, a respected architect in his own right, pulled together a massive multivolume documentary history,
The
Iconography of Manhattan Island
, and Edith worked for many charitable organizations. Zimmerman chronicles their personal lives and love, from the heights of financial success to the depths of deteriorating health and wealth, while also encapsulating the era in which they lived. VERDICT With an impressive amount of research behind every page, Zimmerman manages to capture the sweeping drama of the turn of the century as well as the compelling story of a couple who knew how to love, fiercely. Her superb pacing and gripping narrative will appeal to all who enjoy history, biography, and real-life romance.--Library Journal
or
Not Currently Available for Direct Purchase