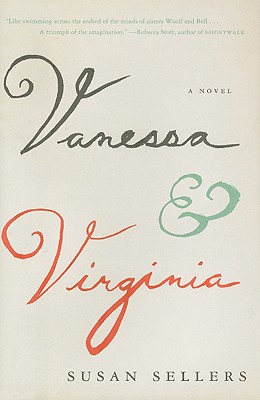 Vanessa and Virginia
Hardcover

* Individual store prices may vary.
Other Editions of This Title:
Paperback (4/12/2010)
Description
"You see, even after all these years, I wonder if you really loved me." Vanessa and Virginia are sisters, best friends, bitter rivals, and artistic collaborators. As children, they fight for attention from their overextended mother, their brilliant but difficult father, and their adored brother, Thoby. As young women, they support each other through a series of devastating deaths, then emerge in bohemian Bloomsbury, bent on creating new lives and groundbreaking works of art. Through everything—marriage, lovers, loss, madness, children, success and failure—the sisters remain the closest of co-conspirators. But they also betray each other. In this lyrical, impressionistic account, written as a love letter and elegy from Vanessa to Virginia, Sellers imagines her way into the heart of the lifelong relationship between writer Virginia Woolf and painter Vanessa Bell. With sensitivity, imagination, and fidelity to what it known of both lives, Sellers has created a powerful portrait of sibling rivalry.
Praise For Vanessa and Virginia…
Praise for VANESSA AND VIRGINIA:
"Sellers's impressionistic prose evokes the near-magical artistic world the two innovative women inhabited. She highlights the interplay of their creative thinking and ways in which they inspired each other... A thorough portait of the complicated dance of sisters."--More Magazine "Instant Classic"
"Sellers beautifully imagines what it must have meant to be a gifted artist yoked to a sister of dangerous, provocative genius."--Cleveland Plain Dealer
"A simple and yet magical tribute to a writer's life."--Seattle Times
"Vanessa and Virginia captures the sisters' seesaw dynamic as they vacillate between protecting and hurting each other, depending on who is up and who is down. For all their competition--each picturing the other as more content and successful--they are as intimately connected as twins. Through it all, work is their refuge--from their lives and themselves."--Christian Science Monitor
"Sellers's elegant first novel imagines life in Britain's Bloomsbury circle from the point of view of Vanessa Bell, Virginia Woolf's older sister... The amazing aspect of this novel is its painterly quality. As Vanessa recalls her life, layer upon layer of memory is applied to create a portrait of color and shadow, a process that is mirrored in the narrator's descriptions of her methods of painting...Highly recommended for collections of literary fiction-particularly where Woolf is popular."--Library Journal
"A delectable little book for anyone who ever admired the Bloomsbury group... a genuine treat for Bloomsbury fans."--Publishers Weekly
"[A] beautifully written exploration of tortured talent, sibling conflicts, domestic discord, disappointed love affairs, and emotional despair."--Booklist
"Virginia Woolf may have overshadowed her sister, the painter Vanessa Bell, in popular cultural history, but Vanessa was a talented artist, wife, lover and mother in her own right... [Sellers] artfully presents Vanessa, not as a frame to further explore and enhance her more famous sister, but through a full and authentic portrait of a woman whose life has been shaped by tragedy as well as a creative freedom remarkable for her time."--Bookpage
Advance Praise for VANESSA AND VIRGINIA:
"In short, disconnected scenes of exquisite description and nuanced emotion, Susan Sellers invites us to assemble the pieces into a picture not only of the Bloomsbury circle, but of the exigencies of creative work as outlet, devotion, and anchor. A fascinating, compelling novel written with authority and tenderness."—Susan Vreeland, author of Girl in Hyacinth Blue "Reading Vanessa and Virginia is like swimming across the seabed of the minds of sisters Woolf and Bell- everywhere there are fragments of paintings and scenes from novels and lyrical phrases scattered like sunken treasure. It is a novel both exquisite and haunting. A triumph of the imagination." --Rebecca Stott, author of Ghostwalk "This biographical novel shimmers with brilliant prose yet grounds readers with skilful and accurate period detail. As the author cleverly inhabits the mind of Vanessa, a canny unusual twist to a familiar story keeps readers on the edge. Vanessa and Virginia is a lyrical risk-taking novel, and the risks pay off."—Sally Cline, author of Zelda Fitzgerald: Her Voice in Paradise
"A beautiful, haunting novel.... I can think of no other work that is as searching, or as revealing in its exploration of the family life or of the complex dynamic of sibling and artistic rivalry of these two artists."--John Burnside, author of A LIE ABOUT MY FATHER "Deftly, apparently effortlessly, Susan Sellers's novel of love, art, and sexual jealousy gives us convincing and intimate access to the relationship between two remarkable sisters. At once pellucid and sophisticated,
Vanessa and Virginia
is quite simply a pleasure to read."--Robert Crawford, author of FULL VOLUME
Houghton Mifflin Harcourt, 9780151014743, 224pp.
Publication Date: May 14, 2009
About the Author
SUSAN SELLERS is a professor of English at St. Andrews University in Scotland and coeditor of the Cambridge University Press edition of Virginia Woolf's works. She is a past recipient of the Cannongate Prize for new writing and is the author of many short stories and nonfiction books, as well as the novel, Vanessa and Virginia.
or
Not Currently Available for Direct Purchase