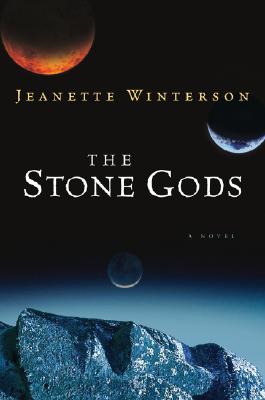 The Stone Gods (Hardcover)
Houghton Mifflin Harcourt, 9780151014910, 224pp.
Publication Date: April 1, 2008
* Individual store prices may vary.
or
Not Currently Available for Direct Purchase
Description
Playful, passionate, provocative, and frequently very funny, Jeanette Winterson's "The Stone Gods" is a story about Earth, about love, and about stories themselves.
On the airwaves, all the talk is of the new blue planet--pristine and plentiful, as our own was 65 million years ago, before we took it to the edge of destruction. Off the air, Billie Crusoe and the renegade Robo sapien Spike are falling in love. Along with Captain Handsome and Pink, they're assigned to colonize the new blue planet. But when a technical maneuver intended to make it habitable backfires, Billie and Spike's flight to the future becomes a surprising return to the distant past, and they discover that "everything is imprinted forever with what once was.
About the Author
JEANETTE WINTERSON is the author of eight novels, a short-story collection, a book of essays, and, most recently a children's picture book. She has won numerous awards, including the Whitbread First Novel Award, the John Llewellyn Rhys Prize, and the E. M. Forster Award. She lives in Oxfordshire and London.
Praise For The Stone Gods…
PRAISE FOR JEANETTE WINTERSON "One of our most brilliant, visionary storytellers."—San Francisco Chronicle

"If words were diamonds and sentences necklaces, Jeanette Winterson would be the De Beers of literature."—Entertainment Weekly

"Prize-winning Brit Winterson applies her fantastical touch to a sci-fi, postapocalyptic setting...stunning, lyrical and evocative..."

"This is science fiction with a satirical twist, part Daniel Defoe''s Robinson Crusoe and part Virginia Woolf''s Orlando."

"The apocalypse is coming. You''ll need something to read. THE STONE GODS, Jeanette Winterson''s new novel, makes an excellent choice for desert-planet reading --scary, beautiful, witty and wistful by turns, dipping into the known past as it explores potential futures...read THE STONE GODS for new discoveries in language, love and what it means to be human."



"The Stone Gods is a vivid, cautionary tale - or, more precisely, a keen lament for our irremediably incautious species."
-Ursula LeGuin

"A rangy pirate, a world-swashbuckler, a plunderer of stories, literatures and hearts, with one foot in the sea and the other planted so firmly in England that her placeless, faceless fiction glints with facets of pure Englishness, the grandeur of Shakespeare, the absolutism of Lawrence, the stillness of Woolf, the traditional cocky farce of Chaucer and Carry On films. She can shift shape, self and time, she uses repetition as if it were spell-making. Everything she does suspends readers between the mind and the body, between 'atom and dream'. She is a kind of magician. She can do anything."

"This book is a tour de force that skips backward in time."



"[I]ntricately structured, emotionally lucid…With Virginia Woolf''s Orlando as her template, literary prowess to burn, and an incandescent passion for life, Winterson critiques human folly in myriad forms and laments the pillaging and poisoning of the earth in this mordantly funny,fast-paced, and elegiac speculative novel, in which books literally save a life." (Starred Review)



"The latest from the eclectically adventurous Winterson (Lighthousekeeping, 2005 etc.) is equal parts meta fiction and science fiction...Winterson employs the plot as a backdrop for an environmental manifesto, making grand pronouncements--''History is not a suicide note-- it is a record of our survival''; ''Perhaps the universe is a memory of our mistakes'' -- amid allusions to Beckett, Sartre and Camus, as well as the inevitable Dafoe."

"A playful but impassioned novel. Winterson cloaks her disillusionment with out political excesses in a sustained imaginative jeu d'esprit. Her writing is funny and beautiful."
Advertisement