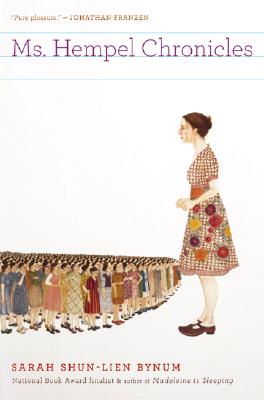 Ms. Hempel Chronicles
Hardcover

* Individual store prices may vary.
Other Editions of This Title:
Digital Audiobook (6/16/2009)
Paperback (10/27/2020)
Audio Cassette (10/1/2009)
Paperback (2/1/2011)
Paperback (9/18/2009)
MP3 CD (10/1/2009)
Compact Disc (5/1/2012)
Compact Disc (10/1/2009)
Description
Ms. Beatrice Hempel, teacher of seventh grade, is new--new to teaching, new to the school, newly engaged, and newly bereft of her idiosyncratic father. Grappling awkwardly with her newness, she struggles to figure out what is expected of her in life and at work. Is it acceptable to introduce swear words into the English curriculum, enlist students to write their own report cards, or bring up personal experiences while teaching a sex-education class?Sarah Shun-lien Bynum finds characters at their most vulnerable, then explores those precarious moments in sharp, graceful prose. From this most innovative of young writers comes another journey down the rabbit hole to the wonderland of middle school, memory, daydreaming, and the extraordinary business of growing up.

Praise For Ms. Hempel Chronicles…
PRAISE FOR MADELEINE IS SLEEPING "A hallucinogenic fairy tale that veers between the clinical clarity of hard fact and a surreal mysticism . . . Bynum's lush, poetic imagery is full of vivid, sensuous details one can almost smell, taste, and feel."—The Boston Globe

"Bynum writes with concise, careful phrasing and a clarity that illuminates the depths to be found even in the most quotidian existence."



"Subtle, dazzling...There is so much elliptical richness in the multifaceted character of Ms. Hempel that every chapter in this short, taut novel brings revelation...No sign of sophmore slump in this masterful illumination of character."



"[B]rilliant...It''s impossible to walk away from this beautifully written book without feeling nostalgic."



"[W]hen I opened this utterly charming novel, I fell in love with it..."


-Carolyn See

"[U]tterly winning...[Bynum] creates a seamless, intuitive novel of shor

"The idea that we''re all just aging, idiosyncratic children snatching at happiness is central to Ms Hempel Chronicles, Sarah Shun-lien Bynum''s gently, deeply affecting second novel....Ms. Hempel''s consciousness is a joy to inhabit."


-Amy Gerstler

"Sarah Shun-lien Bynum enchants in ''Ms. Hempel Chronicles.''"


-Elissa Schappell

"Bynum''s first novel, the dreamlike ''Madeleine is Sleeping,'' was a finalist for the National Book Award, but it''s her second book that''s the real miracle...[W]ith each chapter, Bynum adds to her portrait of Ms. Hempel, quietly offering us small jewels of information that transform her into a complex and disarming character...Bynum is an inventive writer with talent to spare."


-Anne Stephenson

"As a collection, the tales work together to show a complex and memorable character, while also revealing the staying power of a young, extraordinary writer."


-Ken Murray

"[A] marvelous new book...Each of these eight stories dazzles on its own terms; all together they create a stunning portrait of an unforgettable character at a crossroads."
-Malena Watrous

"Such a beautiful book is MS HEMPEL CHRONICLES, the kind that gives its reader profound insights into ordinary, everyday life... [D]eeply affecting."
-Susan Salter Reynolds

"Shun-lien Bynum has already shown herself as a masterful conjurer of the off-kilter...[In Ms Hempel Chronicles, she] manages to imbue middle school, already an uneasy place, with topsy-turvy wonder."


-Tess Taylor

"Teachers, take note: You''ve got an articulate new advocate in novelist Sarah Shun-lien Bynum. Bynum''s Ms Hempel Chronicles is not only a warm-hearted novel-in-stories about a young 7th-grade teacher navigating the final passage to her own adulthood even as she ushers her students through the tricky narrows of adolescence; it is also a testament to how hard--and important--the work of teaching is."
-Heller McAlpin

"This story of a love affair is pure pleasure to read. Its heroine happens to be a schoolteacher, but Ms. Bynum has such keen eyes and ears and such deep and appealing self-knowledge, you feel she could write no less compellingly about an accountant or an administrator. She can move you in one sentence from wit and hilarity to desperation and wrenching loss. She''s really good."
Houghton Mifflin Harcourt, 9780151014965, 208pp.
Publication Date: September 1, 2008
or
Not Currently Available for Direct Purchase