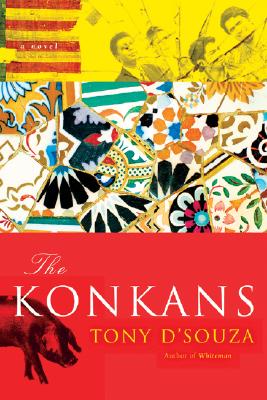 The Konkans (Hardcover)
Houghton Mifflin Harcourt, 9780151015191, 320pp.
Publication Date: February 1, 2008
* Individual store prices may vary.
Description
Francisco D'Sai is a firstborn son of a firstborn son—all the way back to the beginning of a long line of proud Konkans. Known as the "Jews of India," the Konkans kneeled before the Portuguese explorer Vasco da Gama's sword and before Saint Francis Xavier's cross, abandoned their Hindu traditions, and became Catholics. In 1973 Francisco's Konkan father, Lawrence, and American mother, Denise, move to Chicago, where Francisco is born. His father, who does his best to assimilate into American culture, drinks a lot and speaks little. But his mother, who served in the Peace Corps in India, and his uncle Sam (aka Samuel Erasmus D'Sai) are passionate raconteurs who do their best to preserve the family's Konkan heritage. Friends, allies, and eventually lovers, Sam and Denise feed Francisco's imagination with proud visions of India and Konkan history.
Filled with romance, comedy, and masterful storytelling, The Konkans leaves us surprised by what secrets history may hold for us if only we wonder enough to look.
About the Author
Tony D'Souza is the author of three novels, including the award-winning Whiteman. He has contributed to The New Yorker, Playboy, Esquire, Outside, Salon, Granta, McSweeney's, O. Henry Prize Stories, Best American Fantasy, and elsewhere. A recipient of the Sue Kaufman Prize, Florida Gold and Silver Medals for fiction, and fellowships from the Guggenheim and the NEA, Tony was nominated for a National Magazine Award for coverage of Nicaragua's Eric Volz murder trial and spent three years in Africa with the Peace Corps.
Praise For The Konkans…
PRAISE FOR WHITEMAN

"Quirky, seductive and funny . . . The author has acquired the arts of a master storyteller, and each little tale nestled in this novel has an intoxicating, fireside charm. Some of the tales are sad, or spooky or bawdy, but all of them seamlessly combine the ancient allure of folklore with a modern, Western literary elegance."--Salon

"It's the quality of vision that makes D'Souza's novel notable and, for a first book, unusual."—The New York Times Book Review
"The author, a savvy storyteller with a clear, soulful voice, just knows good source material when he lives it. What he has created--with an appealingly unfashionable simplicity--is a rich, warm, personal yarn... there are so many terrific vignettes to squeeze in... [A]n affectionate exploration of personal identity in order to make sense of conflicting parts--and thus become whole in a multicultural world. In this Age of Obama, the search couldn't be more timely, nor the result more gratifying. A-"
"D'Souza's compelling tale of one extended family's trials and triumphs in a foreign land is an astute glimpse of the challenges, dangers, and rewards of assimilation...He recounts his family's history with a soft heart and a wry, detached tone, unquestioning and accepting of their flaws as well as their accomplishments."
"Every page yields its pleasures--D'Souza is a natural."
"With both humor and pathos, D'Souza has written an engrossing story of characters caught in a clash of past and present from which they can't escape."
"This vibrantly written novel, with colorful descriptions of India and the experiences of new immigrants in America, alternates between the hilarious and the heartbreaking; highly recommended for public and academic libraries."
"D'Souza always maintains focus on his vividly imagined characters and their stories, funny and romantic and heartbreaking as stories told softly to a beloved's ear..."
or
Not Currently Available for Direct Purchase