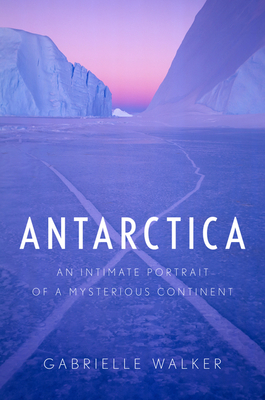 Antarctica
An Intimate Portrait of a Mysterious Continent
Hardcover

* Individual store prices may vary.
Other Editions of This Title:
Paperback (1/1/2012)
Hardcover (1/1/2012)
Description
Antarctica is the most alien place on the planet, the only part of the earth where humans could never survive unaided. Out of our fascination with it have come many books, most of which focus on only one aspect of its unique strangeness. None has managed to capture the whole story—until now.

Drawing on her broad travels across the continent, in Antarctica Gabrielle Walker weaves all the significant threads of life on the vast ice sheet into an intricate tapestry, illuminating what it really feels like to be there and why it draws so many different kinds of people. With her we witness cutting-edge science experiments, visit the South Pole, lodge with American, Italian, and French researchers, drive snowdozers, drill ice cores, and listen for the message Antarctica is sending us about our future in an age of global warming.

This is a thrilling trip to the farthest reaches of earth by one of the best science writers working today.
Praise For Antarctica: An Intimate Portrait of a Mysterious Continent…
"Gabrielle Walker describes very well current activities on the vast ice sheet, from the constant discovery of new undersea life to the ongoing hunt for meteorites, which are relatively easy to track down on the white ice. For anyone who has ever wondered what it's like to winter at 70 degrees below zero, her account will be telling...Absorbing."—Bill McKibben, New York Review of Books

"A dazzling array of narratives throngs Antarctica...Antarctica is still the 'world's most mysterious continent,' as it remains the only one on which humans have never lived permanently. Walker captures that mystique through interviews with people who have made Antarctica part of their lives." —Nature

"Walker's a clear explainer and engaging guide, her descriptions evocative...The true protagonist here is Antarctica itself, and in Walker's rendering it easily carries that leading role."
—Tampa Bay Times

"Walker tells in rich detail what it's like to survive and do science on the only continent never inhabited by human beings. She spends time with dozens of investigators, revealing both their work and the inner workings of their minds...Walker offers a diverse sampling of the seventh continent and the science done there." —American Scientist

"A vivid portrait...We are all anxious Antarctic watchers now, and Walker's book is the essential primer." —The Guardian

"Walker gained access to a variety of fascinating places and projects. There are fresh and informative sections on the fauna and microflora of this harshest of all habitats, on the use of Antarctica as a terrestrial and cosmic observatory...Walker is also good at sketching the oddly beguiling world of the scientists and support workers who return year after year to Antarctic research stations." —The Telegraph

"Hugely informative...Walker uses direct speech to render the material digestible, allowing her protagonists to speak for themselves. She has a gift for lay analogy, as a popular science writer must." —The Spectator

"The fascinating story of Antarctica, from the hardships of exploration to its future survival." —The Ecologist

"Walker's account affords a vibrant vicarious experience of traveling around the place on earth most like an alien planet." —Booklist
 
Houghton Mifflin Harcourt, 9780151015207, 416pp.
Publication Date: January 15, 2013
About the Author
GABRIELLE WALKER has a PhD in chemistry from Cambridge University and has taught at both Cambridge and Princeton universities. She is a consultant to New Scientist, contributes frequently to BBC Radio, and writes for many newspapers and magazines. She is also the author of four books, including An Ocean of Air and Antarctica. She lives in London.