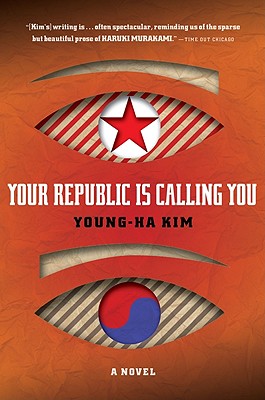 Your Republic Is Calling You
Paperback

* Individual store prices may vary.
Description
A foreign film importer, Gi-yeong is a family man with a wife and daughter. An aficionado of Heineken, soccer, and sushi, he is also a North Korean spy who has been living among his enemies for twenty-one years.
 
Suddenly he receives a mysterious email, a directive seemingly from the home office. He has one day to return to headquarters. He hasn't heard from anyone in over ten years. Why is he being called back now? Is this message really from Pyongyang? Is he returning to receive new orders or to be executed for a lack of diligence? Has someone in the South discovered his secret identity? Is this a trap?
Spanning the course of one day, Your Republic Is Calling You is an emotionally taut, psychologically astute, haunting novel that reveals the depth of one particularly gripping family secret and the way in which we sometimes never really know the people we love. Confronting moral questions on small and large scales, it mines the political and cultural transformations that have transformed South Korea since the 1980s. A lament for the fate of a certain kind of man and a certain kind of manhood, it is ultimately a searing study of the long and insidious effects of dividing a nation in two.
Praise For Your Republic Is Calling You…
"The romantic belief is that art can either familiarize the strange or estrange the familiar. Now here's a guy who can do both at the same time. Young-ha Kim, very much like his protagonist, is a spy. He is spying on humanity; the secret information he provides is invaluable." —Etgar Keret, author of The Nimrod Flipout

"What a ride! Young-ha Kim is clearly a writer to watch out for. Your Republic Is Calling You promises to be the breakout book from Korea. Through his compelling narration of events happening in a single day, he leads us into the heart and soul of modern Korea and tells us and what it means to be human in a world bristling with borders. I cannot praise it enough." —Vikas Swarup, author of Slumdog Millionaire

"Your Republic Is Calling You is that rare thing, a novel that is simultaneously suspenseful and meditative, an intriguingly provocative novel about freedom, duty, and inevitability. This highly-charged novel kept me up half the night, turning pages; I spent the other half wide awake, staring at the ceiling, thinking and thinking about it." —Dean Bakopoulos, author of Please Don't Come Back from the Moon

"An ordinary day in the life of a North Korean film distributor turns into an extraordinary adventure when it is revealed that he is a South Korean sleeper agent. Young-ha Kim narrates the formidable choice that his hero will have to make with unflinching honesty and masterful suspense. Your Republic is Calling You is a thoroughly engrossing book." —Laila Lalami, author of Hope and Other Dangerous Pursuits and Secret Son"[An] ambitious novel from one of Korea's most admired writers . . . Energized by a powerful sense of the difficulty of 'belonging' in a dangerous place and time.  Perhaps the most intriguing and accomplished Korean fiction yet to appear in English translation." -- Kirkus Reviews

"Deeply compelling . . .a riveting tale of espionage along with keen observations of human behavior." -- Publishers Weekly

Mariner Books, 9780151015450, 336pp.
Publication Date: September 28, 2010
About the Author
YOUNG-HA KIM is the author of seven novels—four published in the United States, including the acclaimed I Have the Right to Destroy Myself and the award-winning Black Flower—and five short-story collections. He has won every major Korean literature award, and his works have been translated into more than a dozen languages. He lives in Seoul, South Korea. 
or
Not Currently Available for Direct Purchase