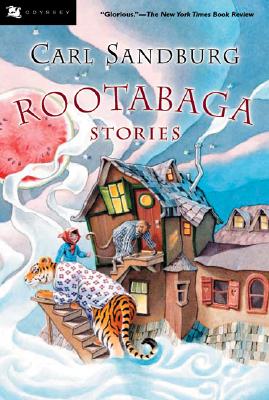 Rootabaga Stories (Paperback)
HMH Books for Young Readers, 9780152047146, 192pp.
Publication Date: April 1, 2003
Other Editions of This Title:
Paperback (1/1/2010)
Paperback (10/1/1998)
Hardcover (10/14/2018)
Paperback (10/17/2018)
Paperback (10/14/2018)
Hardcover (11/9/2018)
Hardcover (4/21/2012)
Paperback (10/7/2018)
Hardcover (10/17/2018)
Hardcover (10/7/2018)
Hardcover (11/10/2018)
Paperback (11/10/2018)
Hardcover (8/8/2015)
Hardcover (8/8/2015)
Hardcover (8/31/2015)
Hardcover (8/31/2015)
Paperback (8/23/2017)
Hardcover (8/8/2015)
* Individual store prices may vary.
Description
Welcome to Rootabaga Country--where the railroad tracks go from straight to zigzag, where the pigs wear bibs, and where the Village of Cream Puffs floats in the wind. You'll meet baby balloon pickers, flummywisters, corn fairies, and blue foxes--and if you're not careful, you may never find your way back home!
These beautiful new editions retain the original illustrations by Maud and Miska Petersham, and feature gorgeous new jackets by acclaimed illustrator Kurt Cyrus. Carl Sandburg's irrepressible, zany, and completely original Rootabaga Stories and More Rootabaga Stories will stand alone on children's bookshelves--when they aren't in children's hands.

About the Author
CARL SANDBURG (1878–1967) was twice awarded the Pulitzer Prize, first in 1940 for his biography of Abraham Lincoln and again in 1951 for Complete Poems. Before becoming known as a poet, he worked as a milkman, an ice harvester, a dishwasher, a salesman, a fireman, and a journalist. Among his classics are the Rootabaga Stories, which he wrote for his young daughters at the beginning of his long and distinguished literary career.