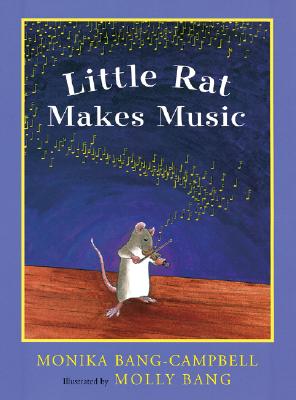 Little Rat Makes Music (Hardcover)
Harcourt Children's Books, 9780152053055, 48pp.
Publication Date: August 1, 2007
* Individual store prices may vary.
or
Not Currently Available for Direct Purchase
Description
Little Rat can't wait to make music like the violinists she sees at concerts in the city. But her biggest obstacle is practicing. It's boring. It's hard. And her violin squawks a lot. Luckily, Little Rat's teacher believes she has talent. And her new tutor agrees. With their encouragement--and some fine-tuning--Little Rat hits all kinds of high notes. But most important, she discovers where beautiful music really comes from. In this third book of Little Rat's celebrated tales of triumph, Monika Bang-Campbell and Molly Bang prove that with a bit of pluck, patience, and practice, anything is possible.
About the Author
MONIKA BANG-CAMPBELL is the author of the Little Rat series. She lives on Cape Cod, in Massachusetts. MOLLY BANG has written and illustrated more than twenty books for children, including three Caldecott Honor recipients: When Sophie Gets Angry--Really, Really Angry . . .; Ten, Nine, Eight; and The Grey Lady and the Strawberry Snatcher. She lives near the ocean in Massachusetts.
Praise For Little Rat Makes Music…
* "In the third easy-reader collaboration from this mother-daughter team (Little Rat Sets Sail, rev. 7/02; Little Rat Rides, rev. 5/04), the small, determined heroine takes on a new challenge: violin lessons. Of course, Little Rat's dream of making beautiful music on the first try is quickly dashed. Her teacher (a stern-faced rabbit wearing a pince nez and Birkenstocks) hears some potential, but Little Rat avoids practicing because it's "BORING." When Kitty, an older student, tutors her, Little Rat starts to improve, finally buckling down when she's given a chance to take part in a recital. Bang-Campbell's text is divided into eight short chapters and sets a matter-of-fact tone that allows her flashes of humor to shine more brightly. For the most part, the text is upstaged by Bang's stunning illustrations, which go way beyond the obligatory visual clues needed for an early reader. Deep jewel-toned colors provide a rich counterpart to the homely settings and the drabness of the rats' fur. Both text and art make seemingly incongruous situations (such as a small rat cleaning a huge litter box) completely believable by treating their subjects with respect. Bang's spot-on visual representation of music is worth special note, particularly the scratchy beginner sounds Little Rat makes on her violin, shown as a jumble of dark jagged lines. In the end, Little Rat discovers the joy of making real music while the reader basks in an elegantly orchestrated mother-daughter duet." (starred review)
Advertisement