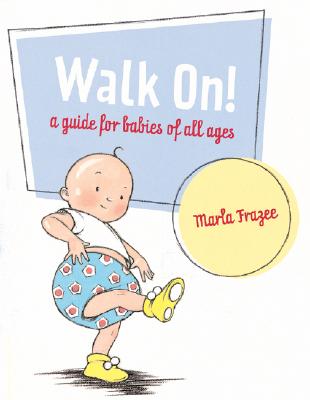 Walk On!: A Guide for Babies of All Ages (Hardcover)
A Guide for Babies of All Ages
Harcourt Children's Books, 9780152055738, 40pp.
Publication Date: April 1, 2006
Description
Trying something new is never easy. Like walking, for instance. But aren't you sick of sitting on your bottom day in and day out? Hasn't lying around all the time become a little bit boring? This handy guide, both practical and inspirational, is here to help. With useful tips, common pitfalls, and Marla Frazee's adorable illustrations, this book is perfect for anyone--from a baby to a graduate to a grown-up--who's about to take a scary first step.

About the Author
MARLA FRAZEE has illustrated many beloved picture books, including Everywhere Babies by Susan Meyers and Harriet, You'll Drive Me Wild! by Mem Fox, as well as her own Santa Claus the World's Number One Toy Expert and Roller Coaster. She lives in Pasadena, California.
Praise For Walk On!: A Guide for Babies of All Ages…
*"Frazee''s saucy invitation to all generations to ''walk on'' has just enough kick and sass to incite action in babies (and grown-ups) everywhere."

"''Walk On!'' illustrates the world from the perspective of a not-yet walking baby.  Chairs loom impossibly tall.  The living room is a yellow haze punctuated by items of importance in full color: ball, block, rattle.  But the witty teacher''s voice Frazee adopts here makes the process of learning to walk into somethingmore... In the end, ''Walk On!'' seems to be less about the baby''s view than about providing life lesson''s for people reaching other milestones, on the order of Dr. Seuss'' "Oh the Places You''ll Go!''  Those readers should love it..."  --New York Times Book Review (August 13, 2006)
Advertisement