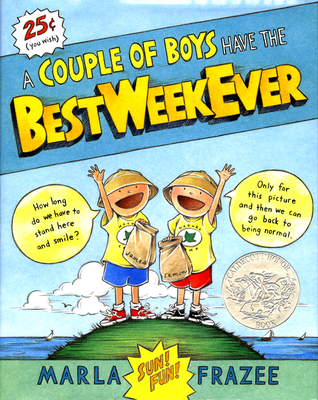 A Couple of Boys Have the Best Week Ever (Hardcover)
HMH Books for Young Readers, 9780152060206, 40pp.
Publication Date: March 1, 2008
Other Editions of This Title:
Compact Disc (6/15/2010)
Compact Disc (6/15/2010)
* Individual store prices may vary.
Description
When James and Eamon go to a week of Nature Camp and stay at Eamon's grandparents' house, it turns out that their free time spent staying inside, eating waffles, and playing video games is way more interesting than nature. But sometimes things work out best when they don't go exactly as planned.  

This Caldecott Honor-winning book is a moving and hilarious celebration of young boys, childhood friendships, and the power of the imagination, where Marla Frazee captures the very essence of summer vacation and what it means to be a kid.
About the Author
MARLA FRAZEE has illustrated many acclaimed picture books, some of which she also wrote. Her picture book 
A Couple of Boys Have the Best Week Ever
 was named a Caldecott Honor Book. She is also the author and illustrator of
Walk On! A Guide for Babies of All Ages; Santa Claus, the World's Number One Toy Expert; Roller Coaster;
and
Hush, Little Baby.
She is the illustrator of
Everywhere Babies
by Susan Meyers, 
The Seven Silly Eaters
by Mary Ann Hoberman,
Harriet, You'll Drive Me Wild
by Mem Fox, and more. Marla Frazee lives in Pasadena, California. Visit her website at
www.marlafrazee.com
.  
Praise For A Couple of Boys Have the Best Week Ever…
* "Frazee (Roller Coaster) salutes grandparents and slyly notes children's diversions in this breezy tale of "the best week ever." After Eamon enrolls in nature camp, he spends nights with his grandparents, Bill and Pam, at their beach cottage. Eamon's friend James joins the sleepover, and although the text describes James as "very sad" when his mother drives away, a cartoon shows him exuberantly waving "Bye!" Humorous contradictions arise between the hand-lettered account ("Bill handed them each a pair of binoculars and a list of birds to look for. On the way home, the boys reported their findings") and voice-bubble exchanges between the boys (Eamon, training the lenses on James: "His freckles are huge." James: "Yeah, and his tongue is gross"). Bill tries to interest the boys in a museum exhibit on penguins; the inseparable friends ("To save time, Bill began calling them Jamon") show no enthusiasm yet energetically build "penguins" from mussel shells. Frazee's narrative resembles a tongue-in-cheek travel journal, with plenty of enticing pencil and gouache illustrations of the characters knocking about the shoreline. Like The Hello Goodbye Window, Frazee's story celebrates casual extended-family affection, with a knowing wink at the friends' dismissal of their elders' best-laid plans." (starred review)
— Publishers Weekly
* "Frazee's hilarious round-headed cartoons romp across the page in snort-inducing counterpoint, abetted by the occasional speech balloon. . . . The genius here is not that the boys finally get outside in the end; it's that their joy in being together is celebrated equally whether they're annihilating each other in a video game or building a replica of Antarctica on Bill and Pam's dock. As respectful of kid sensibilities and priorities as it's possible for an adult to achieve." (starred review)
— Kirkus Reviews
* "Summer can seem a long time away during the colder portions of the year, and summer books can hold a special promise and poignancy in the long run-up until the months of freedom. Truly stellar summer books, such as Lynne Rae Perkins' Pictures from Our Vacation can evoke the weirdness and unexpected magic of summer's free-form experiences even in the darkest season. Add in some snarky and boisterous grade-school humor, and you've got A Couple of Boys Have the Best Week Ever. . . . This sweetly captures the pleasures of youthful time-wasting in the company of your best friend with a keen understanding that those pleasures are best when they're unsentimental. The result is just realistic enough to be perfect, a grade-schooler's idyllic summer with limited demands for learning and bettering and a whole lot of reveling in kid priorities. A wonderful late-winter reminder that summer is coming, this will cheer up audiences by encouraging them to reflect on glorious summers past and even more glorious summers to anticipate." (starred review)
— The Bulletin of the Center for Children's Books
* "Frazee brings out the typical energy of a couple of boys who may scoff at nature and seem to prefer watching TV, but it is through her artful illustrations that readers catch glimpses of just how savvy and creative these kids can be. . . . This intergenerational story will elicit howls of laughter and requests for repeated readings." (starred review)
— School Library Journal