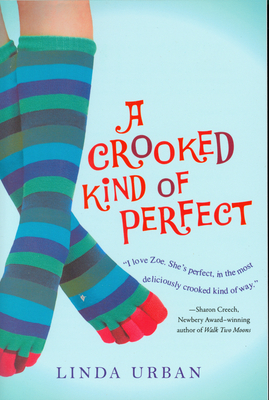 A Crooked Kind Of Perfect
Paperback

* Individual store prices may vary.
Other Editions of This Title:
Digital Audiobook (9/10/2007)
Description
Ten-year-old Zoe Elias has perfect piano dreams. She can practically feel the keys under her flying fingers; she can hear the audience's applause. All she needs is a baby grand so she can start her lessons, and then she'll be well on her way to Carnegie Hall.
But when Dad ventures to the music store and ends up with a wheezy organ instead of a piano, Zoe's dreams hit a sour note. Learning the organ versions of old TV theme songs just isn't the same as mastering Beethoven on the piano. And the organ isn't the only part of Zoe's life in Michigan that's off-kilter, what with Mom constantly at work, Dad afraid to leave the house, and that odd boy, Wheeler Diggs, following her home from school every day.
Yet when Zoe enters the annual Perform-O-Rama organ competition, she finds that life is full of surprises—and that perfection may be even better when it's just a little off center.
Praise For A Crooked Kind Of Perfect…
"What a generous spirit behind this book: one that celebrates the crooked quirks of its characters. I love Zoe's parents and her friend Wheeler, but most especially I love Zoe. She's perfect, in the most deliciously crooked kind of way."--Sharon Creech, Newbery Medal-winning author of Walk Two Moons "An impressive and poignant debut novel . . . filled with hope and humor."--School Library Journal "Immediately engaging . . . Zoe's world is drawn with sometimes painful precision, her emotions are revealed with empathy, and her story unfolds realistically, without the miracles she hopes for, but with small, sometimes surprising changes . . . sometimes funny, sometimes tender, this is a promising debut."--Booklist "Short, funny chapters full of exaggeration and exasperation provide lots of laughs . . . Readers with their own dreams, weird obsessions, and quirky hobbies will be heartened by the message that a few bumps, compromises, and sour notes along the way can pay off in a major key."--The Bulletin —
Clarion Books, 9780152066086, 224pp.
Publication Date: April 6, 2009
About the Author
Linda Urban's debut novel, A Crooked Kind of Perfect, was selected for many best books lists and was nominated for twenty state awards. She is also the author of Hound Dog True, The Center of Everything, Milo Speck, Accidental Agent, and the chapter book Weekends with Max and His Dad, which received two starred reviews. A former bookseller, she lives in Vermont. Visit Linda online at lindaurbanbooks.com and on Twitter at @lindaurbanbooks.