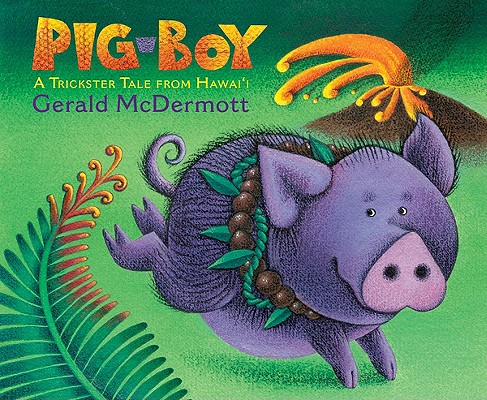 Pig-Boy: A Trickster Tale from Hawaii (Hardcover)
A Trickster Tale from Hawaii
Houghton Mifflin, 9780152165901, 32pp.
Publication Date: April 1, 2009
Description
Pig-Boy is hairy. Pig-Boy is dirty. Pig-Boy is hungry! And when trouble comes, he knows just what to do. (Of course, escaping trouble comes easily to a trickster, who can shape-shift his way out of sticky situations just in time!) With the tropical colors and cadences of the islands, master artist and storyteller Gerald McDermott brings irrepressible humor and energy to a Hawaiian trickster tale that's been beloved for generations.
Includes an author's note.
About the Author
GERALD MCDERMOTT (1941-2012) was an internationally acclaimed author-illustratorof books for children. A graduate of Pratt Institute in New York City and a lifelong artist, hebegan his career asan animated filmmaker before moving into the creation of children's books based on storytelling traditions from around the world. He was awarded the Caldecott Medal and two Caldecott Honors; his extensive and influential body of work includes six popular picture books focusing on the trickster motif. Devoted to oral tradition and the transformative power of mythology, he was the first Fellow of the Joseph Campbell Foundation and served as a consultant on mythology in education. www.geraldmcdermott.com "
Praise For Pig-Boy: A Trickster Tale from Hawaii…
"The boldly colored art is dynamic and reflects both the humor of the sprightly text and the author/illustrator's background as an animator in its visual pacing. The tale itself has just enough folkloric elements to convey action, character and setting without bogging down in detail. An author's note supplies bibliographic and historical information. Good rascally fun."--Kirkus Reviews

". . . lovely gouache-and–colored pencil artwork creates such nuanced texture that you nearly expect Pig-Boy's hide to feel fuzzy . . . intriguing offering."--Booklist

"The text is nicely turned with a folkloric touch at times . . . The Hawaiian locale offers a pleasing new setting in McDermott's established folkloric oeuvre; the rich, jewel-toned illustrations, full of purples and greens, reverberate with island colors and tropical shades."--The Bulletin

"This gleeful, preposterous trickster is especially well realized in the illustrations. McDermott's simple figures—set off by swaths of brilliant tropical greens and blues on a heavy watercolor paper that provides the texture he uses to give them dimension—have a monumental strength that in no way detracts from their humor or from the liveliness of Pig-Boy's mischief. A rousing good story that should also, as McDermott suggests, arouse interest in the traditions from which it comes."--The Horn Book Magazine

"The purple trickster pig stands out against backgrounds of emerald green. People and chickens wear yellow-gold and orange, and the sea is a deep, bright blue. A note about the Pig-Boy character is included. This fine introduction to a classic Hawaiian trickster should have a place in most collections."--School Library Journal


Advertisement