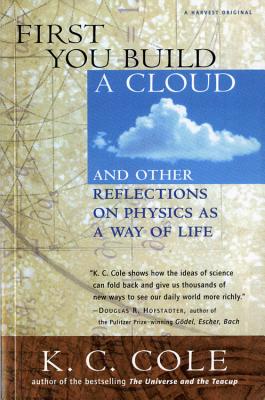 First You Build a Cloud (Paperback)
Mariner Books, 9780156006460, 240pp.
Publication Date: April 15, 1999
* Individual store prices may vary.
Description
For many of us, physics, like math, has always been a thing of mystery and complexity. In First You Build a Cloud, K. C. Cole provides cogent explanations through animated prose, metaphors, and anecdotes, allowing us to comprehend the nuances of physics-gravity and light, color and shape, quarks and quasars, particles and stars, force and strength. We also come to see how the physical world is so deeply intertwined with the ways in which we think about culture, poetry, and philosophy. Cole, one of our preeminent science writers, serves as a guide into the world of such legendary scientific minds as Richard Feynman, Victor Weisskopf, brothers Frank Oppenheimer and J. Robert Oppenheimer, Philip Morrison, Vera Kistiakowsky, and Stephen Jay Gould.