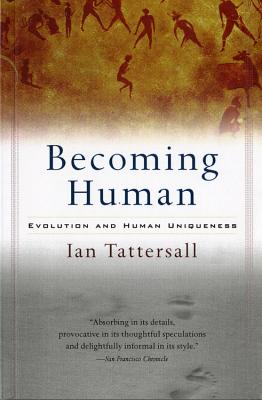 Becoming Human (Paperback)
Evolution and Human Uniqueness
Mariner Books, 9780156006538, 272pp.
Publication Date: July 8, 1999
Other Editions of This Title:
Hardcover (3/23/1998)
* Individual store prices may vary.
Description
In Becoming Human, noted anthropologist and renaissance man Ian Tattersall explores what makes us uniquely human, the qualities that set us apart from our ancestors, and the significance of our knowledge. A worldwide tour of discovery, Tattersall takes the reader from 30,000-year-old cave paintings in France and anthropological digs in Africa, to examining human behavior in a New York restaurant. And by offering wisdom gleaned from fossil remains, primate behavior, prehistoric art, and archaeology, Tattersall presents a stunning picture of where humankind evolved, how Darwin's theories have changed, and what we reliably know about modern-day human's capacity for love, language, and thought. Widely praised in the media, and an Amazon.com Top-10 bestseller, Becoming Human is an amazing trip into the past and into the future.

About the Author
IAN TATTERSALL is curator emeritus at the American Museum of Natural History, and the author of many books and articles. Becoming Human won the distinguished W.W. Howells Prize of the American Anthropological Association. An expert on both fossil humans and lemurs, Tattersall has done fieldwork in places as varied as Madagascar, Yemen, and Vietnam.
Praise For Becoming Human: Evolution and Human Uniqueness…
"In this superbly written book, Ian Tattersall combines his unique knowledge of the human fossil record, Paleolithic archaeology, primate behavior, prehistoric art, as well as the workings of the human brain and our extraordinary cognitive powers, to offer a convincing scenario of how we have come to hold dominion over the earth."—Donald Johanson (author of From Lucy to Language) in Scientific American
"An ambitious effort . . . Tattersall meets the challenge commendably."—The San Diego Union-Tribune
"Although many popular anthropological accounts of the human species have been written, few are as engaging as that of Ian Tattersall."—Natural History