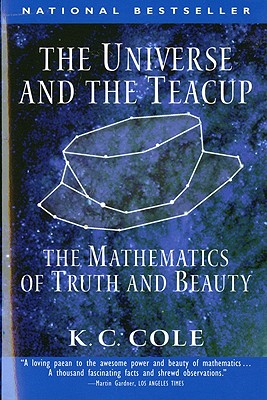 The Universe and the Teacup (Paperback)
The Mathematics of Truth and Beauty
Mariner Books, 9780156006569, 224pp.
Publication Date: April 15, 1999
* Individual store prices may vary.
Description
Mathematics, that breathtaking invention of ours that reveals the tiniest particles of matter and takes us to the outermost reaches of the cosmos, is found by many people to be intimidating. In The Universe and the Teacup, K. C. Cole demystifies mathematics and shows us-with humor and wonderfully accessible stories-why math need not be frightening. Using the O. J. Simpson trial, the bell curve, and Emmy Noether, the nineteenth-century woman scientist whose work was essential for Einstein's theory of relativity, Cole helps us see that more than just being a tool, math is a key to understanding the beauty of everything from rainbows to relativity.

Praise For The Universe and the Teacup: The Mathematics of Truth and Beauty…
"Even the most confirmed mathophobe should find it an easy read, and possibly even a fascinating one. . . . Science journalism can be a frustrating craft. . . . K. C. Cole of the Los Angeles Times is one of the best."-The Boston Globe
"A most unusual book, one with no math in it at all . . . Cole's beguiling and lucid book provides fresh insights into the crucial role that mathematics plays in science. . . . With lighthearted wit, she makes clear how numbers alone can explain so much but never all."-San Francisco Chronicle
"Cole helps to teach us that math is more than just a tool to balance our checkbooks. It's the key to understanding the beauty of a rainbow and to discovering our true place in the universe."-Astronomy