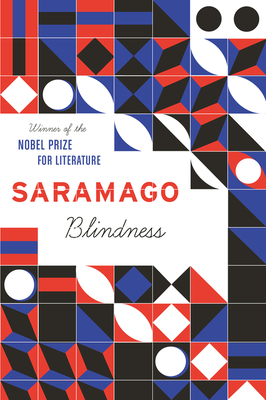 Blindness (Paperback)
Mariner Books, 9780156007757, 352pp.
Publication Date: October 4, 1999
Other Editions of This Title:
Paperback, Spanish (2/28/2011)
Compact Disc (8/5/2008)
Paperback (9/1/2008)
Hardcover (9/1/1998)
MP3 CD (8/5/2008)
Compact Disc (8/5/2008)
Paperback (11/1/2008)
* Individual store prices may vary.
Description
A stunningly powerful novel of man's will to survive against all odds, by the winner of the 1998 Nobel Prize for Literature.

"This is a shattering work by a literary master."—The Boston Globe

A New York Times Notable Book of the Year
A Los Angeles Times Best Book of the Year
 
A city is hit by an epidemic of "white blindness" which spares no one. Authorities confine the blind to an empty mental hospital, but there the criminal element holds everyone captive, stealing food rations and raping women. There is one eyewitness to this nightmare who guides seven strangers—among them a boy with no mother, a girl with dark glasses, a dog of tears—through the barren streets, and the procession becomes as uncanny as the surroundings are harrowing. A magnificent parable of loss and disorientation and a vivid evocation of the horrors of the twentieth century, Blindness has swept the reading public with its powerful portrayal of man's worst appetites and weaknesses—and man's ultimately exhilarating spirit.
About the Author
JOSÉ SARAMAGO (1922–2010) was the author of many novels, among them Blindness, All the Names, Baltasar and Blimunda, and The Year of the Death of Ricardo Reis. In 1998 he was awarded the Nobel Prize for Literature.
Praise For Blindness…
"This is a shattering work by a literary master."—The Boston Globe

"This is an important book, one that is unafraid to face all of the horrors of the century."—The Washington Post

"Symphonic . . . [There is] a clear-eyed and compassionate acknowledgment of things as they are, a quality that can only honestly be termed wisdom. We should be grateful when it is handed to us in such generous measure."—The New York Times Book Review

"Saramago's surreal allegory explores the ability of the human spirit to prevail in even the most absurdly unjust of conditions, yet he reinvents this familiar struggle with the stylistic eccentricity of a master."—The New Yorker

"Extraordinarily nuanced and evocative . . . This year's most propulsive, and most profound, thriller."—The Village Voice

"Like Jonathan Swift, Saramago uses airily matter-of-fact detail to frame a bitter parable; unlike Swift he pierces the parable with a dart of steely tenderness . . . out of leisurely prose, the ferocity and tenderness shoot suddenly: arrows set alight. . . . Enchanting, sinuous dialogue."—The Los Angeles Times

"Blindness may be as revolutionary in its own way and time as were, say, The Trial and The Plague in theirs. Another masterpiece."—Kirkus Reviews (starred review)