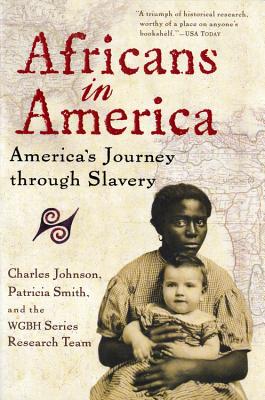 Africans in America
America's Journey through Slavery
Paperback

* Individual store prices may vary.
Description
A riveting narrative history of America, from the 1607 landing in Jamestown to the brink of the Civil War, Africans in America tells the shared history of Africans and Europeans as seen through the lens of slavery. It is told from the point of view of the Africans who arrived in shackles and endured the terrible dichotomy of this new land founded on the ideal of liberty but dedicated to the perpetuation of slavery. Meticulously researched, this book weaves together the experiences of the colonists, slaves, free and fugitive blacks, and abolitionists to present an utterly original document, a startling and moving drama of the effects of slavery and racism on our conflicted national identity. The result transcends history as we were taught it and transforms the way we see our past.

Praise For Africans in America: America's Journey through Slavery…
Outstanding . . . It is a triumph of historical research, worthy of a place on anyone's bookshelf.-USA Today

What Eyes on the Prize did for the civil rights movement, Africans in America will do for slavery."-The Village Voice

A magnificent achievement, history at its superb best, brilliantly researched, poetically written, brimming over with original documents that cannot help but move the reader.--Howard Zinn, author of A People's History of the United States

Mariner Books, 9780156008549, 512pp.
Publication Date: November 11, 1999
About the Author
Charles Johnson, recipient of a 1998 MacArthur Foundation Award, is the author of five works of fiction, including Dreamer. He has received many honors and awards, including the National Book Award. He is Professor Emeritus at the University of Washington.