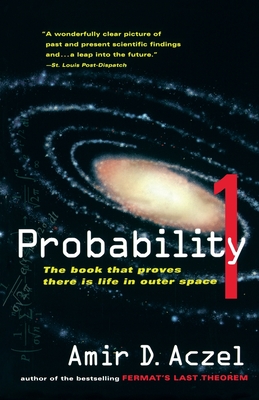 Probability 1 (Paperback)
Mariner Books, 9780156010801, 240pp.
Publication Date: January 20, 2000
* Individual store prices may vary.
Description
For thousands of years, it was the visionaries and writers who argued that we cannot be alone-that there is intellegent life in the universe. Now, with the discoveries of the Hubble Telescope, data emerging from Mars, and knowledge about life at the extremes, scientists are taking up where they left off. Amir Aczel, author of Fermat's Last Theorem, pulls together everyting science has discovered, and mixes in proabability theory, to argure the case for the existence of intelligent life beyond this planet. Probability 1 is an extraordinary tour de force in which the author draws on cosmology, math, and biology to tell the rollicking good story of scientists tackling important scientific questions that help answer this fundamental question. What is the probability of intelligent life in the universe? Read this book, and you'll be convinced, by the power of the argument and the excitement of the science.

About the Author
Amir D. Aczel, Ph.D. grew up on a ship and was navigating straits in the Mediterranean long before he could drive a car. The author of Fermat's Last Theorem, God's Equation, The Mystery of the Aleph, and Probability 1, he lives with his wife and daughter in the Boston area and teaches at Bentley College.
Praise For Probability 1…
"For one practiced in dealing with numbers, Amir Aczel certainly has a way with words. . . . Before reading Aczel's book, you might find it easy to shrug off his conclusions. After you've finished Probability 1, you may find it harder to do so."-Astronomy
"There are two reasons for recommending [Probability 1] to any person interested in the debate: It is clearly and gracefully written and it is up-to-date in its astronomical data."-Martin Gardner, Los Angeles Times Book Review