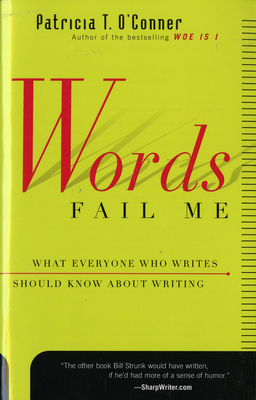 Words Fail Me
What Everyone Who Writes Should Know about Writing
Paperback

* Individual store prices may vary.
Other Editions of This Title:
Hardcover (9/1/1999)
Description
A fun, focused guide to making words work for you
Whether you are working on the novel that's been in the back of your mind for years or simply facing an increasing demand to write well at work or school, the fact remains: we all write more often these days, be it reports, e-mails, blog posts, or texts. But despite the increase in written communication, the fundamentals of good writing have been lost. Grammar maven Patricia T. O'Conner comes to the rescue with the most painless, practical, and funny writing book ever written. In short, snappy chapters filled with crystal-clear examples, amusing comparisons, and humorous allegories that cover everything from "Pronoun Pileups" and "Verbs That Zing" to "What to Do When You're Stuck," O'Conner provides simple, straightforward tips to help you sort through your thoughts and make your sentences strong.
Praise For Words Fail Me: What Everyone Who Writes Should Know about Writing…
"O'Conner uses her playful sense of humor to help us swallow with a laugh the rules that schoolmarms once forced down students' throats.-The New York Times Book Review
"O'Conner is one of those sneaky-good writers: You don't see the effort behind her smoothness."-Salon.com "Read this one from end to end....Imagine what the Congressional Record would be like if bureaucrats wrote that way."-The Cleveland Plain Dealer
"Will delight the word lovers on your shopping list...Sassy." -Detroit News Free Press
"Remember Woe Is I? Well, Ms. O'Conner is back and she hasn't lost her touch. This book is worth the price just to read her chapter titles and headings."-Writers' Exchange
"Patricia T. O'Conner's Woe Is I and Words Fail Me are readable, sympathetic to the struggling writer and often just plain funny."-the Seattle Times

Mariner Books, 9780156010870, 240pp.
Publication Date: September 7, 2000
About the Author
Patricia T. O'Conner was an editor at the New York Times Book Review when she wrote Woe Is I. Her writing has appeared in many magazines and newspapers, including the New York Times and Newsweek.