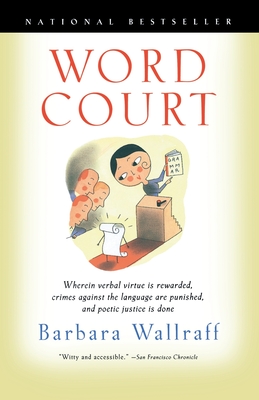 Word Court (Paperback)
Wherein Verbal Virtue Is Rewarded, Crimes Against the Language Are Punished, and Poetic Justice Is Done
Mariner Books, 9780156011181, 384pp.
Publication Date: August 7, 2001
Other Editions of This Title:
Hardcover (1/1/2000)
* Individual store prices may vary.
Description
By the author of the Atlantic Monthly's highly popular column "Word Court," the most engaging grammar guide of our time, with all the authority of Strunk and White and all the fun of Woe Is I.

The "Judge Judy of Grammar" was born when the Atlantic Monthly's Barbara Wallraff began answering grammar questions on America Online. This vibrant exchange became the magazine's bimonthly "Word Court," and eventually the bestselling hardcover book, Word Court.

In Word Court, Wallraff moves beyond her column to tackle common and uncommon items, establishing rules for such issues as turns of phrase, slang, name usage, punctuation, and newly coined vocabulary. With true wit, she deliberates and decides on the right path for lovers of language, ranging from classic questions-Is "a historical" or "an historical" correct?-to awkward issues-How long does someone have to be dead before we should all stop calling her "the late"? Should you use "like" or "as"-and when?

The result is a warmly humorous, reassuring, and brilliantly perceptive tour of how and why we speak the way we do.


About the Author
Barbara Wallraff (right) is a senior editor at the Atlantic Monthly, where she has worked since 1983. She lives in Brookline, Massachusetts.