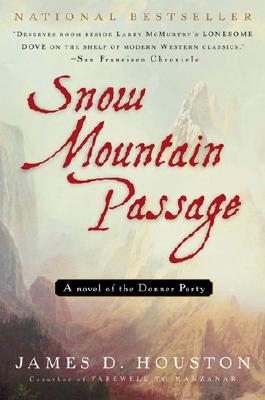 Snow Mountain Passage (Paperback)
Mariner Books, 9780156011433, 336pp.
Publication Date: April 24, 2002
Other Editions of This Title:
Hardcover (3/27/2001)
* Individual store prices may vary.
Description
Snow Mountain Passage is a powerful retelling of our most dramatic pioneer story--the ordeal of the Donner Party. Through the eyes of James Frazier Reed, one of the group's leaders, and the imagined "Trail Notes" of his daughter Patty, we journey along with the ill-fated group determined, at all costs, to make it to the California territory.
James Reed is a proud, headstrong, yet devoted husband and father. As he and his family travel in the "Palace Car," a huge, specially built--and ultimately cumbersome--covered wagon, they thrill to new sights and cope with conflict and constant danger. Yet when a fight between Reed and another driver ends in death, Reed is exiled from the group and heads over the mountains alone. The fate of the other families, including Reed's wife and four children, is sealed when they set out across a new, untested route through the Sierra--their final mountain pass. Arriving at the foothills just as the snows start to fall, they are left stranded for months--starving, freezing, and battling to survive--while Reed journeys across northern California, trying desperately to find means and men for a rescue party.
An extraordinary tale of pride and redemption, Snow Mountain Passage is a brilliantly imagined and grippingly told story straight from American history.

*National Bestseller

About the Author
James D. Houston (1933–2009) was the author of several novels and nonfiction works exploring the history and cultures of the western United States and the Asia/Pacific region. His works include Snow Mountain Passage, Continental Drift, In the Ring of Fire: A Pacific Basin Journey, and The Last Paradise, which received a 1999 American Book Award for fiction. A former Wallace Stegner Fellow at Stanford, Jim received a National Endowment for the Arts writing grant, a Library of Congress Story Award, and traveled to Asia lecturing for the U.S.I.S. Arts America program.
 
Praise For Snow Mountain Passage…
PRAISE FOR SNOW MOUNTAIN PASSAGE

"In a class by itself. The novel takes one of the most ghoulish, garish parts of our national myth and transforms it into a dignified, powerful narrative of our shared American destiny."--The Washington Post Book World
"Houston doesn't try to cram us with history; he opens doors to it and invites us in. The result is an eloquent tribute to human endurance."--San Jose Mercury News
"A clear-eyed view of humanity's heart of darkness."--The Atlantic Monthly
"This is one of the essential stories of the American westward movement, and seldom has it been told with such exemplary passion and pathos. Houston has made another significant contribution to the genre's revival."--Kirkus Reviews (starred review)
"[Houston] is able to take on the territory of legend and make it his own."
-San Francisco Chronicle