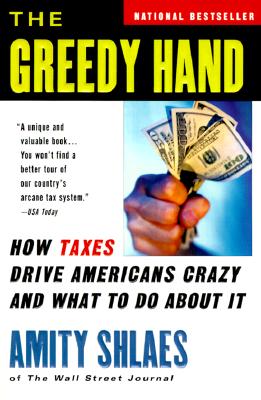 The Greedy Hand: How Taxes Drive Americans Crazy and What to Do About It (Paperback)
How Taxes Drive Americans Crazy and What to Do About It
Mariner Books, 9780156011525, 288pp.
Publication Date: March 1, 2000
* Individual store prices may vary.
or
Not Currently Available for Direct Purchase
Description
Ever since Colonial times, Americans have been bedeviled by high taxes that seem to return little of material value to citizens. Taking a page from Thomas Paine's "Greedy Hand" manifesto, Amity Shlaes has written a provocative and fascinating book exposing the inequities of our present tax system, and offers concrete, coherent solutions to simplify our lives. Today, taxes make up more than a third of our economy, the highest level in peacetime history. We truly live in the land Paine foresaw when he warned of government "thrusting itself into every corner and crevice of industry." This book is a cultural examination of the way taxes influence our behavior, and how they force us into an arbitrary system that punishes families and individual enterprise. Shlaes shows how so-called tax breaks do little to help families and how married women are unfairly taxed more. She uncovers the problems that engage and enrage us, proving that Social Security issues and school inadequacies are at heart tax problems. And she charts a course out of the madness of tax oppression, offering a number of solutions that will give each of us a fairer, simpler system. With compassion for Americans and their dreams, Shlaes makes the best case yet for rethinking our tax code.
Praise For The Greedy Hand: How Taxes Drive Americans Crazy and What to Do About It…
"Ms. Shlaes has provided a thoughtful overview of the system's many contradictions and inequities. She defines the debate over what we ought to do and gets you thinking constructively about the problems she identifies."-The New York Times
"In far less time than the IRS says it takes to file the short form, you can read The Greedy Hand and finally understand just why taxes drive you crazy, or should. . . . You won't find a better tour of our country's arcane tax system."-USA Today
"Succeeds brilliantly at showing how our present approach just doesn't cut it."-San Francisco Chronicle
"Succinctly describes a bad situation. Let's hope our politicians read it."-The Financial Times
Advertisement