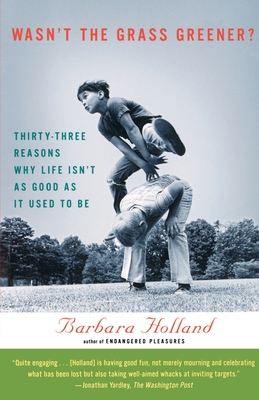 Wasn't the Grass Greener? (Paperback)
Thirty-three Reasons Why Life Isn't as Good as It Used to Be
Mariner Books, 9780156011761, 256pp.
Publication Date: July 4, 2000
* Individual store prices may vary.
Description
Liquor cabinets and pianos have vanished from homes. It's been over fifty years since the last worthwhile war. Doctors never visit and no one hangs their clothes out to dry anymore. In Wasn't the Grass Greener?, Barbara Holland shares her sentiments on these deplorable results of "progress," where entertainment has come to replace idleness and children are skipping childhood. Written with impeccable style and a sharp wit, Holland's all-original essays are laugh-out-loud funny, whether or not you're old enough to remember clotheslines. Not quite a peaceful stroll down memory lane, Wasn't the Grass Greener? is a straight-up collection of a curmudgeon's complaints with a shot of nostalgia on the side.

Praise For Wasn't the Grass Greener?: Thirty-three Reasons Why Life Isn't as Good as It Used to Be…
"We sometimes hear it said of an iconoclastic essayist like Mark Twain or Russell Baker that he is a 'national treasure.' I vote to include Barbara Holland in this treasure chest."-The Philadelphia Inquirer
"Though Holland obviously means what she writes, she also is having good fun, not merely mourning and celebrating what has been lost but also taking well-aimed whacks at inviting targets."-The Washington Post