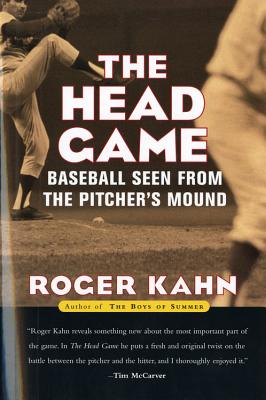 The Head Game (Paperback)
Baseball Seen from the Pitcher's Mound
Mariner Books, 9780156013048, 336pp.
Publication Date: April 2, 2001
* Individual store prices may vary.
Description
Beyond the techniques and training, baseball begins with one player facing another and the psychological battle that they wage-the head game. In his critically acclaimed and bestselling new book, Roger Kahn presents the story of this supreme war of wits and the people who changed the course of baseball by playing, what he calls, chess at 90 miles an hour. In The Head Game, Kahn investigates not only grips, tactics, and physics, but also the intelligence, maturity, and competitive fire that has inspired some of the greatest hurlers in history.
By covering renowned pitchers and pitching minds-from Christy Mathewson, Cy Young, Don Drysdale, Bob Gibson, and Bruce Sutter to today's reigning pitching coach, Leo Mazzone-Roger Kahn sheds new light on baseball's most pivotal contest. A delightful and edifying tour of America's favorite pastime seen through the pitcher's eyes, The Head Game "is as lively and familiar and old-shoe as the game itself, even today" (Los Angeles Times).



About the Author
Widely acclaimed as the greatest baseball writer of his generation, Roger Kahn is most famous for his modern classic, The Boys of Summer, which James Michener called the finest American book on sports. Kahn is the author of 16 books, including The Head Game, Baseball Seen from the Pitchers' Mound. His magazine articles won five Dutton Best Magazine Story Awards and his book The Era: When the Yankees Dodgers and Giants Ruled the World was nominated for a Pulitzer Prize. Born in Brooklyn, he now lives in Stone Ridge, N.Y. with his wife, the psychotherapist Katharine Colt Johnson.